Kaduna: I'm no religious bigot, says El-Rufai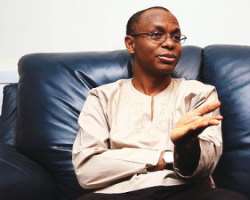 Kaduna State Governor Nasir El-Rufai has denied sponsoring Southern Kaduna attacks. He described those accusing him of sponsoring the crisis as 'mischief makers'.
El-Rufai said he is neither a religious bigot nor an ethnic jingoist who will organise crisis in a state he leads.
The governor called for more funding for security agencies in budget to enable them tackle internal security appropriately.
El-Rufai spoke yesterday when he received the Senate ad hoc committee on Southern Kaduna Crisis at the Sir Kashim Ibrahim Government House.
He said: 'When we came in, we met three main problems on ground - cattle rustling, urban gang and communal killings.
'As the chief security officer of the state, we really do not have control over the security agencies though we have committed so much to funding them. We even bought bullet proof vests and vans for them. We have committed N4 billion to support them and we will continue to support them though it is the responsibility of the Federal Government.'
El-Rufai, however, called for additional support for security agencies in the 2017 budget, saying 'there is need for training and retraining of security personnel, and the purchase of additional security equipment'.
On the Southern Kaduna crisis, the governor promised to deploy resources to facilitate the take-off of the proposed military garrison in Southern Kaduna.
He, however, noted that peace is a choice and people must decide to live in peace.
His words: 'The reason the crises has continued unabated is because those involved have neither been punished nor prosecuted in the 35 years. People are making money from the crisis and politicizing it for personal gains. So we hope this committee will see the reality on ground and not what is been bandied around.
'I am not an ethnic jingoist or a religious bigot. Those who accuse me of sponsoring the crisis are just mischievous; no governor wants crisis in his state.'
Committee Chairman Senator Kabir Gaya said: 'Our mission is to interact, discuss with government, stakeholders, community leaders, security and others.'
He said the information gotten was laudable and urged the El-Rufai to sustain the tempo and use his experience to bring peace to the state.