Apostle Suleiman honours DSS invitation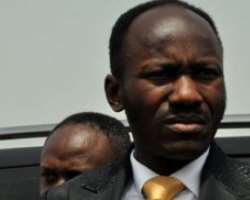 Apostle Johnson Suleiman of the Omega Fire Ministry on Monday  honoured the invitation of the Department of State Services.
DSS is after the firebrand preacher for allegedly inciting Christians against Muslims.
to interrogate him on his alleged hate speech.
Though details of his appearance were sketchy, it was learnt that the fiery pastor appeared at the headquarters of the service at about 7:45pm and was there until about 10.30 Pm.
It was not clear whether he was followed to the venue by any of his followers but some persons seen with him were suspected to be his lawyers. It would be recalled that the committee Department of State Services Monday morning deployed a massive security wall around the premises of its national headquarters in anticipation of the arrival of the pastor of Omega Fire Ministries, Johnson Suleiman who was invited to appear before the service.
The Pastor before appearing before the agency, said that he stood by his words about the Kaduna herdsmen.
According to him, he is not inciting anybody to violence but just asking Christians to defend themselves against attacks.
He said that he made his comment based on the report he got from reliable sources that the herdsmen were planning attacks against him.
Suleiman asked rhetorically whether it would be better for somebody to just watch as his neck is being cut off.