Najimu Yasin: Reminiscences of an admirer!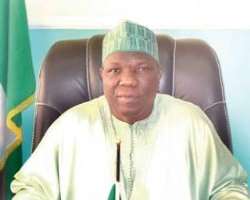 Were the National Union of Road Transport Workers, NURTW, registered as a political party, chances are that it will have little or no problem in getting its president, Alhaji Najimudeen Usman Yasin, elected with a comfortable majority. Two facts support this optimism. One, with members running into millions, NURTW is the largest single affiliate of the Nigerian Labour Congress, NLC; and, two; over the past five decades of his association with unionism, the NURTW president has acquired rare organization skills that only high achievers are noted for.
And, in recognition of this and other attributes, encomiums have continued to go the way of Alhaji Najimu Yasin especially as it concerns how he transformed the NURTW into a formidable and respectable union. He is the holder of the very visible traditional title of MakamanGusau in addition to being the President General of Offa Descendants' Union, ODU. Little wonder that speculations have been rife in recent times that Alhaji Najimu Yasin is about to throw his hat into the political ring.
If this proves true, then his birthplace of Offa in Kwara state will be the loser. The way it is, the interest of Offa would be better served if a political arrangement is put in place for Alhaji Najimu Yasin to execute the chairmanship of Offa Local Government! On the surface, it is natural to question the rationale for suggesting that a national figure such as the national president of the NURTW climbing down to be a local government chairman! Beyond the surface, though, this is neither a scatterbrained nor demeaning proposal because this is one proposal that could take Offa to greater heights.
Let's go down memory lane. A little over two decades, one of the important suggestions made by Professor Jamiu Oyawoye, MFR, undoubtedly the most prominent son of Offa and its best known ambassador was for communities to identify and draft their tested, trusted, prominent and incorruptible sons and daughters to assume chairmanship and councillorship posts at the local government level. The interview was part of activities to mark the birthday of Professor Oyawoye, best known to the outside world as Africa's Father of Geology, and his suggestions were meant to strengthen the third tier of government and promote good governance, especially at the grassroots.
Few years later, Professor 'Dibu Ojerinde, former Registrar of the Joint Admissions and Matriculation Board, JAMB, echoed the wise counsel of Professor Oyawoye and even suggested that he may vie for the chairmanship or councillorship position in his native Igboho in Oyo state after retiring from service. Whether or not and when Professor Ojerinde plans to activate his plan, now that he has been retired, is not clear but the impression one got from the two eminent Nigerians was that the interest of communities will be better served if prominent and fulfilled 'sons of the soil', get elected as chairmen of local government area. This can hardly be contested.
It is true that any governor of Oyo state will think twice before they keep Professor Ojerinde, as chairman of his local government area, waiting in an ante-office at Government House. Similarly, any governor of Kwara state will think twice before they play dirty tricks with Alhaji Najimu Yasin, as chairman of Offa local government area and withhold allocation to his council. Tell me, which governor of kwara state will summon Alhaji Najimu Yasin, as chairman of Offa local government area, to Government House to dictate how to apply council funds? Honestly, it is simply unthinkable to imagine that, as chairman of Offa LGA, Alhaji Najimu Yasin will subscribe to the ignoble practice of sharing council funds.
This proposal may be at variance with the popular view that a community's best ambassadors should be donated to the nation. It may even anger those who think the chairmanship of Offa local government area is too low an office to be occupied by the NURTW president. But, sentiments apart, Alhaji Najimu Yasin will positively affect more and improve fortunes if he exercises executive powers over the affairs of Offa local government area. Aside empowering an individual and placing them in the spotlight, very few benefits, come to communities that donate their best hands to the nation.
For a man whose rise from grass to grace has been so phenomenal, what spotlight is Alhaji Najimu Yasin seeking either at the state or national levels? Except, of course, in the unlikely situation of his being donated to the United Nations as Secretary General which also comes with no direct benefit to his immediate community, very little benefit, if any, will come to Offa if Alhaji Najimu Yasin is elected president or governor or deputy governor of Kwara state. Offa will reap no benefit, either directly or indirectly, if the NURTW president is appointed a minister or commissioner!
Running the affairs of Offa LGA and managing its finances will be an icing on the cake for Alhaji Najimu Yasin. There should be no surprises here! Alhaji Najimu Yasin has not looked back since the early 1970's when his organizational skills became noticed in Gusau when he single-handedly organised commercial vehicle drivers into a formidable union in the old Sokoto state. He has since then remained a worthy ambassador of Zamfara state and, indeed the old Sokoto state that provided him a solid platform from where he played a pivotal role in the formation of the NURTW as it is known today.
The NURTW has witnessed enduring transformation since Alhaji Najimu Yasin assumed its presidency. Specifically, it is in the area of rehabilitation and empowerment of members that Alhaji Najimu Yasin has been outstanding. As it stands today, the NURTW has made it convenient for members to take advantage of services rendered by the National Open University of Nigeria and allied long distance programmes. This has made it possible for members to return to the classroom.
To strengthen the rehabilitation and empowerment scheme, the NURTW entered into agreements with financial institutions to provide needed support for members. Through various agreements, members now access bank loans with relative ease. This is in addition to efficient revolving loan schemes, cooperative and thrift system as well as several welfare schemes put in place for the benefit of members.
It is in his capacity to identify and address challenges that Alhaji Najimu Yasin has distinguished himself. If NURTW has witnessed so much transformation under the watch of Alhaji Najimu Yasin, it is about time his birthplace benefited from his transformative skills. This is without prejudice to his presidency of the ODU. In this regard, there is nothing unusual in elders of Offa to request their prominent son to return home and improve its fortunes at the end of his tenure as president of NURTW.
Honestly, Alhaji Najimu Yasin will be setting a good precedence if, in his characteristic humility, he considers it an honour and, a personal challenge, to return home and further improve his community.
Magaji is based in Abuja and can be reached at < [email protected] >