Bankers Committee Sets Up ATM Panel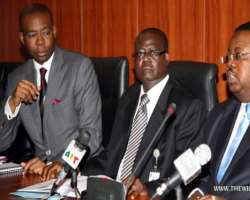 PHOTO: L-R: GMD, ACCESS BANK PLC, MR. AIGBOJE AIG-IMOUKHUEDE, DIRECTOR BANKING OPERATIONS, CBN, MR. SAM ONI AND GMD, FIRST BANK PLC, MR. BISI ONI AT THE TUESDAY BANKERS' COMMITTEE MEETING IN ABUJA.
LAGOS, May 18, (THEWILL) - A Panel has been set up by the Bankers Committee to verify the ability, depth and financial strength of the three licensed outsource agencies on the automated teller machine (ATM) before they are allowed to operate the machines.

The panel will carry out thorough examination on the outsource agents, namely, Interswitch, Chams and Corporaty and has two weeks within which to submit its report.

Speaking to Finance reporters at the end of their meeting at the CBN Corporate Headquarters in Abuja, Director Banking Supervision of the apex bank, Sam Oni, said the effort was aimed at evaluating the current impact of the ATM machines on the banking public, stressing that strategies are being put in place to ensure that the machines are properly serviced or replaced and that cash is always available for public use.

He stated that the banks are currently carrying out corporate governance and the apex bank would ensure that non-executive directors are adequately remunerated and trained on business strategies risk management to equip them for the task ahead.

"The tenure for non executive directors is four years of three terms making a total of twelve years, but the apex bank would now be conducting continuous assessment on their performance which would look at reports of external auditors and various assessment criteria to determine their continuity in office", he said.