Impunity: Reps move to curb DSS excesses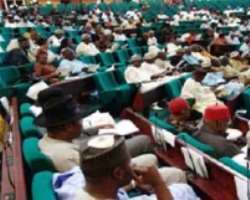 The House of Representatives has unanimously adopted a motion of urgent national importance centred on the need to check cases of persistent human right abuses and acts of impunity by the Department of State Services (DSS) and other security agencies.
The motion was sponsored by representatives Toby Oke-chukwu, Zakari Mohammed, O. K Chinda, Jisalo Zephaniah, Ali Madaki, Baba Ibrahim, Abiante Inombek, Gabriel Onyenwife, Douye Diri, and Bode Ayorinde.
The legislators condemned growing cases of extra judicial actions by the DSS with reference to the most recent 'sledge hammer' invasion of the Office of the Aide to the Senate President and Youth Council President, describing the act as undemocratic and barbaric while stressing that the DSS has no justification for the disruption of theDecember 22 planned peaceful protest by some activists operating under the name of Lawyers in Defence of Democracy and Citizens for Good Governance.
The lower chambers also condemned the arrest and detention of four persons for over one month without trial for allegedly planning to hold a protest which the House considered an exercise of their (activists) rights to peaceful assembly, personal liberty and freedom of movement as citizens.
A unanimous resolution of the House ordered the DSS to immediately release the four detained activists namely: Ugo Apumaga, Emeka Dibia, Ejike Nwachukwu and Ikenga Imo Ugochinyere who is an aide to Senate President, Bukola Saraki and National President of the Youth Council, all of who have been in DSS detention since December 22, 2016.