Williams sisters in Aussie final as Federer, Nadal renew rivalry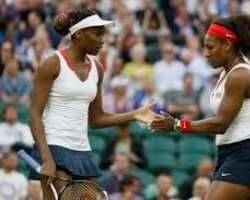 Serena Williams will play her sister Venus in the Australian Open final today.
The 22 Grand Slam winner dismissed her Croatian opponent Mirjana Lucic-Baroni 6-2 6-1 to join her sister who had earlier come from a set down to beat fellow American, CoCo Vandeweghe.
Both sisters last met in Melbourne in 2003 in the finals. Serena had won the title six times. Venus best showing was playing the final with Serena 14 years ago.
'For us both to be in the final is the biggest dream come true for us,' said Serena, a year her sister's junior.
'She's my toughest opponent, no one has ever beaten me as much as Venus has. I just feel like no matter what's happened we've both won … A Williams is going to win this tournament.'
The six-times champion was all but untouchable when her first serve hit the mark and sealed the win when Lucic-Baroni smashed a forehand into the net, the American reaching her 29th grand slam final where she will bid for a 23rd major title.
Serena gave her opponent a huge hug at the net before watching on smiling as Lucic-Baroni took a selfie as a memento of her day in the sun.
'Honestly she's inspiration, she deserves all the credit today,' said Serena. 'Everything she's gone through, she inspires me.'
Venus needed almost three times as long to overcome world number 35 Vandeweghe, who broke the 13th seed on her first service game and won the opening set on a tiebreaker. Venus went on to clinch the next two sets, remarkably saving 12 of 13 break points she faced, seven in the second set alone.
Venus danced around the court in breathless delight at her victory and gave the crowd an elaborate version of her traditional twirl, having ensured she would become the oldest Australian Open women's finalist in the professional era.
'Everyone has their moment in the sun,' Venus said. 'Maybe mine has gone on a while but I'd like to keep that going. I got nothing else to do, let's keep it going.'
Meanwhile, Rafael Nadal will battle his friend, Roger Federer for the Australian Open title on Sunday after Nadal edged hard fighting Grigor Bulgarian Dimitrov 6-3 5-7 7-6 6-7 6-4 in the semi-final.
The five-set thriller stretched past midnight in Melbourne, with Nadal serving out the game at 5-4 for his 21st Grand Slam final and a possible 15th career grand slam if he was able to beat Roger Federer.