ATIKU'S LOYALIST, AJANAKU DUMPS AC, BACK IN PDP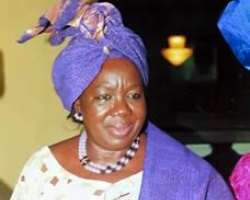 Titilayo Ajanaku
A former Special Adviser to the President on Women Affairs, Chief Titilayo Ajanaku, on Tuesday formally dumped the Ogun State chapter of the Action Congress to return to the state Peoples Democratic Party, which she left in 2006.
Ajanaku, a close ally of former Vice-President Atiku Abubukar, defected from the PDP in the heat of the controversies trailing the ambition of Abubakar to contest the 2007 presidential election, which forced the former nation's number two man to seek shelter in the AC.
The former adviser to ex-President Olusegun Obasanjo during the latter's first term in office, during her return to the PDP in Abeokuta, promised to serve as a bridge of reconciliation among the aggrieved parties in the state chapter of the party.
At the ceremony, where hundreds of Ajanaku's supporters were in attendance, were the state Chairman of PDP, Chief Joju Fadairo; the state Secretary, Chief Pegba Otemolu; Special Adviser to the Governor on Political Matters, Chief Niyi Adegbenro; former member, House of Representatives, Chief Lola Abiola-Edewor, among other principal officers.
Fadairo described Ajanaku's return to the party as home-coming, saying the 'more the merrier.'
He said, 'Ajanaku is a woman of principle. She is back with us; we are going to do many things together. Her coming back will be a blessing to us. She believes in the party; she believes in the hierarchy of the party.
'We recorded 100 per cent in previous elections and we shall do it again in 2011. The only reason we won't do it again is if we are divided but we are gradually coming together.'
Ajanaku attributed her return to the party to the direction that God had given her while admitting that her closeness to Abubakar had equally played a role in her return to the PDP.
She said, 'Yes, some people said I went on sabbatical, but thank God that the party is still formidable. Only God leads me; my political life is as good as my spiritual life. Politics for me is not a 'do-or-die' affair.
'I didn't fight with anybody in the PDP while I was outside the party. That is why one needs to appeal to all the leaders of the party to close ranks.'
Ajanaku, who said she had met with Obasanjo and Governor Gbenga Daniel among other leaders of the party in the state to intimate them to her desire to return to the party, submitted that the problems in the state PDP had to do with succession battle in 2011.
She said, 'I have equally met Senator Jubril Martins Kuye, Alhaji Sule Onabiyi, Chief Sarafa Isola and Senator Iyabo Obasanjo-Bello. It is not in the best interest of any of the leaders to leave the party; we should come together to build a formidable PDP.
'I don't believe there is any hostility among these people and I believe that my stepping back into the PDP today will usher in prosperity and goodness.'