Fashola blames lack of funds, vandalism for blackouts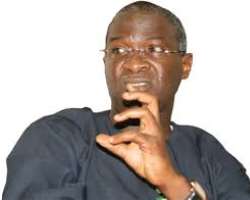 Minister of power, works and housing, Babatunde Fashola, has blamed lack of funds and vandalism for declining power supply across the country.
According to him, the debts owed contractors was causing problem between Distribution Companies and Generation Companies.
Fashola spoke to  State House correspondents after the weekly Federal Executive Council (FEC)  Meeting presided over by acting President Yemi Osinbajo.
He specifically mentioned  lack of payment to gas suppliers, sabotage and shut down of oil terminals for the festering poor power supply.
The minister said, "If you can't produce oil, you cannot take the gas. The gas is the fuel that the power plants need.
"You have seen what we have been doing in increasing the capacity in firing transmission but if we don't have fuel to fire the plants, that is the reason.Fashola
"What then happens on the grid is that once it goes below 3,000 MW, it becomes unstable. It is like in your house when you have surges and your circuit breakers trip to protect the system".
"So once it falls below a certain threshold you then have those trip offs. There are in a sense almost necessary to protect the entire system, so what then happens is startups, we do black starts from various power plants"
Fashola added that while attempts were on to restart Afam power station in Lagos last week, there was an outbreak of fire just as it also happened in Kainji," he said.
He said unless people change their negative attitude towards power infrastructure, the problem of poor power supply may persist.
"Until we resolve these behavioural issues, people collect money, are they remitting everything in a manner that is fair even if it is not enough? Some people hold up their own share and they ask themselves why should we continue to supply if we can't get paid because there are bankers and financiers? So, we are talking with everybody trying to resolve it," he explained.
He urged Nigerians to give the government a chance adding that "As at yesterday (Tuesday), we were back to 2,900MW. So, we are building up back again and very soon you will see some stability. These are setbacks on the road to incremental power but we will overcome them".
The minister said the council approved the completion of Odogunyan  transmission substation in Ikorodu, Lagos to provide additional transformer capacity at the substation with 260 MVA transformers and transmission lines of 132KVA.