N13BN SALARY ARREARS: NITEL WORKERS DENY AKUNYILI ACCESS TO RADIO HOUSE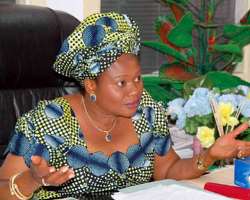 Minister of Information and Communications, Prof. Dora Akunyili
It took the intervention of the Inspector General of Police, Mr. Ogbonna Onovo, for the Minister of Information and Communications, Prof. Dora Akunyili, to gain access to the Radio House Headquarters of the ministry in Abuja on Tuesday.
Workers of the Nigerian Telecommunications Limited had as early as 9am barricaded the multistoried Radio House located in the Garki District of Abuja to protest the non-payment of their 25 months, salary arrears amounting to N13bn.
The workers could not allow anybody access into or out of the office complex including Akunyili until Onovo intervened in person and with a detachment of policemen who were deployed to ensure that the protest did not degenerate into violence.
Before the arrival of the policemen, however, the workers had in annoyance beaten two journalists who had came to cover the demonstration.
NITEL workers and their counterparts in the mobile subsidiary, the Nigerian Mobile Telecommunications Limited, had been at loggerheads with the Federal Government for their salary arrears.
When Akunyili eventually gained access to her office, she called representatives of the workers led by President General, Senior Staff Association of Communications, Transport and Corporations, Mr. Adetunji Adesunkanmi.
Our correspondent learnt that at the meeting, Akunyili pleaded that NITEL was not within her portfolio but under the supervision of the Bureau of Public Enterprises.
When the workers reminded her that the Permanent Secretary of the ministry was the Chairman of the company's technical board, she agreed to negotiate with them.
At the end of the negotiation, it was agreed that she would secure appointment to meet President Goodluck Jonathan with representatives of the workers next week.
Attempts to source money to settle the salary liability including through the sale of the companies to private investors have not yielded the required results.