Buhari corruption crusade dealt a blow as Nigeria's position remains unchanged in global transparency rating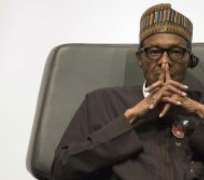 The anti-corruption crusade of President Muhammadu Buhari has made no remarkable impression within and outside the country as Nigeria stuck stubbornly on position 136th out of 176 countries covered in 2016 corruption perception index published by Transparency International . The country in the same position in 2015, which means that the efforts of the Nigerian government were not significant enough to move the country down the corruption ladder. Nigeria scored 28 in the year under review as against 27 on a score of 100, but that did not affect is position in the global chart.
War-ravaged Somalia with an index of ten tops in the World.
The 20-month old Buhari administration touts anti-corruption crusading as the fulcrum of its agenda for moving Nigeria forwards, with many Nigerians doubting the sincerity of the administration which has failed to do anything about the growing number of the administration officials alleged to be corrupt.
The government is perceived as running one-sided anti-corruption war, as it continued to turn blind eyes to grievous allegations against many of his senior ministers, including Chief of Army Staff, Minister of Transportation, Minister of Internal Affairs, the Secretary to the Government of the Federation, and of later Minister of works, Power and Housing.
Besides, he is alleged to have populated key agencies of government by his relations, ethnic men and cronies, which further fuel doubt about the government's openness and adherence to best democratic principles.
(Courtesy of Transparency International)
Somalia received the dubious honor of most corrupt country in the world for the 10th straight year in  the Corruption Perceptions Index 2016 released on Wednesday.
The index, which is published by Berlin-based Transparency International, aims to rank nations "based on how corrupt a country's public sector is perceived to be." The index ranked 176 countries on a scale of 0 (perceived to be highly corrupt) to 100 (perceived to be very clean).
The group estimates that "corruption, bribery, theft and tax evasion, cost developing countries US $1.26 trillion per year." According to José Ugaz, the chair of Transparency International, in the most corrupt countries "we often see democracies in decline and a disturbing pattern of attempts to crack down on civil society, limit press freedom, and weaken the independence of the judiciary."
In total 122 of the 176 countries ranked finished with a score below 50, which Transparency International identifies as having a "serious corruption problem."
Here is the bottom 46:
176. Somalia: 10
175. South Sudan: 11
174. North Korea: 12
173. Syria: 13
170. Libya: 14
170. Sudan: 14
170. Yemen: 14
169. Afghanistan: 15
168. Guinea-Bissau: 16
166. Iraq: 17
166. Venezuela: 17
164. Angola: 18
164. Eritrea: 18
159. Burundi: 20
159. Central African Republic: 20
159. Chad: 20
159. Haiti: 20
159. Republic of Congo: 20
156. Cambodia: 21
156. Democratic Republic of Congo: 21
156. Uzbekistan: 21
154. Turkmenistan: 22
154. Zimbabwe: 22
153. Comoros: 24
151. Tajikistan: 25
151. Uganda: 25
145. Bangladesh: 26
145. Cameroon: 26
145. Gambia: 26
145. Kenya: 26
145. Madagascar: 26
145. Nicaragua: 26
142. Guinea: 27
142. Mauritania: 27
142. Mozambique: 27
136. Myanmar: 28
136. Nigeria: 28
136. Papua New Guinea: 28
136. Guatemala: 28
136. Kyrgyzstan: 28
136. Lebanon: 28
131. Iran: 29
131. Kazakhstan: 29
131. Nepal: 29
131. Russia: 29
131. Ukraine: 29
Somalia has not had a functioning central government since warlords overthrew longtime dictator Mohamed Siad Barre in 1991. The East African nation held a parliamentary vote late last year, but  the process was marred by violence , corruption, vote buying and clan disputes.
Transparency International ranked Somalia as the most corrupt nation in the world. (Photo by Andrew Renneisen/Getty Images)
The countries at the top of the list are generally clustered in Central Asia and Africa. Several war-torn nations, such as South Sudan, Syria, Sudan, Yemen, Afghanistan and Iraq are ranked in the top 10.
There is also a strong correlation between poverty and corruption. According to Ugaz, "in too many countries, people are deprived of their most basic needs and go to bed hungry
every night because of corruption, while the powerful and corrupt enjoy lavish lifestyles with impunity."
One outlier at the top of the list is Russia. The U.S. Treasury singled out Russian President Vladimir Putin for criticism last year for "enriching his friends, his close allies, and marginalizing those who he doesn't view as friends using state assets."
Several critics claim Putin has used his political power to amass a fortune that would make him one of the richest men in the world.
The U.S. Treasury directly accused Russian President Vladimir Putin of being corrupt last year. (Photo: Mikhail Klimentyev/Sputnik, Kremlin Pool Photo via AP)
At the opposite end of the spectrum, Denmark (90 points) was ranked as the least corrupt nation in the world for the fifth straight year. New Zealand tied for the top spot, while Finland, Sweden and Switzerland round out the top five.
The index has been criticized in the past for its methodology. Transparency International is open about the fact that the index measures the perception of corruption, as opposed to actual corruption.
The Washington Post notes : "While knowing more about how citizens perceive a phenomenon certainly has its uses, it is also plausible that perception and reality might differ considerably. This gulf may well mean that the CPI is actually (and inadvertently) distorting reality, simply reinforcing stereotypes and cliches."
The United States (74 points) ranked 18th. It was ranked 16th last year, its highest position since the index began in 1995.
The Rainbow with Yahoo Finance