TRIPLE SUICIDE BOMBINGS KILLS FOUR, INJURES TWO IN MAIDUGURI.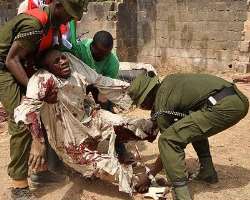 Four people including three suicide bombers were killed in early morning triple suicide bomb attacks at Kaleri and Usmanti ward of Maiduguri metropolis Wednesday morning.
Briefing newsmen, the Borno state Commissioner of Police, Mr, Demian Chikwu said "it was very sad as again, this morning we woke up to suicide bomb attacks. The first one was at about 12:15 this morning when some soldiers sighted one suicide bomber trying to cross military checkpoint in Usmanti where they halted him but he refused to stop and they gunned him down".
He said "the second and the third came at about 04:55am and 5:00am, when the second bomber was also trying to cross over military checkpoint in Kaleri the vigilant soldiers shot him dead but the IEDs strapped on his body did not detonate until when the team of Police anti bomb squad came and defused them, while the third one was able to beat the security check and detonated the IED strapped on his body, killing one person with two civilians injured.
In all the three suicide bombers were killed with one innocent civilian, while the two injured persons were rushed to University of Maiduguri Teaching Hospital and are responding to treatment, as the injury is not a life threatening one", the CP added.
He called on the general public to continue to be vigilant, as the terrorists are bent on causing havoc on soft targets, as the military has dislodged them from their hideouts, adding that they are trying to attack people in the mosques, churches, motor parks and any other public places.
It could be recalled that the theatre commander Operation Lafiya Dole, Major General Lucky Irabor in a recent press briefing warned the public to be extra vigilant, as the terrorists have now deviced a new method of attacking people by knocking at their doors and when somebody comes to open the door they will embrace the person and detonate the IEDs on them, because by conquering their stronghold at camp zero in Sambiza, they have now resorted to attacking soft targets.
On the recent attack on Bdagu, village in Askira/Uba local government area of Borno state, the CP said "yes there was an attack in Bdagu, where they invaded the village killing three persons, abducted 7 women and set ablaze the whole village".
The attack did not consume many lives as residents of the village run to the neighboring villages and towns, however the military have pursued the terrorists with the view to killing and freeing the abducted persons.