Fayose condemns DSS planned arrest of Apostle Suleiman, Says; "Nigerians must protect themselves if FG can't protect them"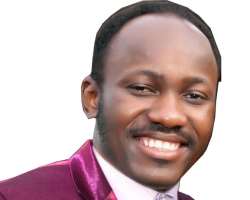 The Ekiti State Governor and Chairman of the Peoples Democratic Party
(PDP) Governors' Forum, Mr Ayodele Fayose has cautioned the All
Progressives Congress (APC) led federal government to be mindful on
how it handles issues bordering on religion in the country so as not
to throw the country into religious crisis, condemning attempt by
armed men of the Department of State Services (DSS) to arrest Apostle
Johnson Suleiman of The Omega Fire Ministries Worldwide in Ado Ekiti,
early today as uncalled for and clear invitation to chaos.
Governor Fayose, who challenged the security agencies in the country,
especially the DSS to tell Nigerians how many of the Fulani herdsmen
that killed thousands of Nigerians across the country have been
arrested, added that; "Nigerians, either Muslim or Christian deserve
to be protected by the federal government, which controls all security
apparatus in the country and the moment the federal government can no
longer protect Nigerians from being killed by rampaging herdsmen,
citizens of the country will have no option than to defend
themselves."
Speaking through his Special Assistant on Public Communications and
New Media, Lere Olayinka, Governor Fayose, who lamented that the APC
led federal government, was indirectly supporting attack on Christians
and other Muslim sects, especially the Shi'ites, by looking the other
way while they are attacked, called on the international community to
intervene before Nigeria is thrown into major religious crisis.
Governor Fayose, who expressed surprise that a man of God was been
trailed to be arrested by the men of DSS said, he expected the
security operatives to invite him if they have any issue with him
instead of arresting him in the dead of the night after a powerful
and spirit-filled crusade in my State.
He said; "If the federal government had acted swiftly like it acted on
Apostle Suleiman so-called inciting comments when people were being
killed by herdsmen across the country, so many lives would have been
saved."
The governor described as strange, APC hatred for men of God,
especially those seen as not on the same page with the party, saying;
"It is on record that the APC in Ekiti State issued press statements
and went on social media to disparage the Redeemed Christians Church
of God (RCCG) Worldwide General Overseer, Pastor Enoch Adeboye just
because he praised me when he came to Ekiti. And curiously, it was
immediately Pastor Adeboye came to Ekiti State and praised me that he
was forced to relinquish his position as the General Overseer of the
RCCG.
"Apostle Johnson Suleiman openly condemned the killing of Nigerians
across the country and went on to say that Christians should rise and
defend themselves if the federal government, which controls all
security apparatus will not defend them and the next thing that
happened was the DSS moving swiftly to arrest him.
"Isn't it ridiculous that instead of running after those herdsmen that
have killed over 3,000 Nigerians in just one year, the DSS opted to
arrest a man of God, who merely expressed his frustration on the
inability of Nigeria to protect its citizens?
"Or who should be arrested between those killer herdsmen and Apostle
Suleiman who merely expressed his readiness for self-defence and
called on Christians to defend themselves if they are attacked by the
herdsmen?
"We were all in this country when cattle breeders openly said over
1,000 Agatu people of Benue State were killed because over 10,000 cows
were killed. We were also told that the Southern Kaduna genocide was
as a result of killing of cows. Up till today, none of those cattle
breeders have been arrested."
The governor, who said there could also be plan to arrest the General
Overseer of Living Faith Church Worldwide International (Winners'
Chapel International), Bishop David Oyedepo, warned security
operatives against intimidation and arrest of men of God in the
interest of peace and religious harmony in the country.
He called for the release of the head of Nigeria's Islamic Movement
(IMN), Ibrahim El-Zakzaky, who has been in detention since late 2015
despite that the court ruled that he should be released, saying; "I
stand for Nigeria and its people, not for any religion and it is my
position that rights of all Nigerians must be respected and
protected."
The Governor said, "I personally attended his crusade and I think it
is wrong for a man of God who is armless that could be invited if they
have any issue against him. Are Christians and Moslems under different
dispensation of the rule of law? That's why I went there to rescue
him. Let them kill two of us together. But when they saw my vehicles
and the crowd, they fled.
Governor Fayose noted that it was unbecoming of the Federal Government
to be harassing the clergymen in the country noting that the General
Overseer of Redeemed Christian Church of God (RCCG) Pastor Enoch
Adeboye was harassed and forced to resign shortly after he visited him
in Ado Ekiti.
He said, "This is unacceptable, we are in a democracy and Nigerians
should warn the Presidency against putting this country on fire
because religion is an emotional thing."