2019:  Okowa Allegedly Behind Planned Protest Against Uduaghan, Others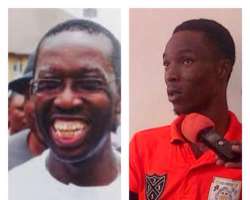 Delta State Governor, Ifeanyi Arthur Okowa and his Principal Secretary, Hilary Ibegbulam, who doubles as his alleged 'Killer Squad Leader', have concluded plans to sponsor a mass protest against the immediate past governor of the state, Dr Emmanuel Eweta Uduaghan, the past Secretary to the State Government (SSG), Comrade Ovuozorie Macaulay and former government officials who served under Uduaghan's administration ahead of the 2019 general elections.
Investigations revealed that for the fear of the unknown that might work against his purported 'do or die' second term bid, Okowa and Ibegbulam have allegedly launch a mass protest to tarnish the image of the above named politicians in the state who he perceived might work against his second term.
It was alleged that Okowa and his aide have printed over 3, 000 T-Shirts, posters and banners depicting former governor Uduaghan in bad light while arrangements for the protest is been coordinated by Okowa's alleged unofficial media aide and an alleged serial 'Blackmailer/Extortionist, Oghenedoro Pedro Otega alias Fejiro Oliver.
In a press statement signed by governor Okowa's unproven unofficial media aide and alleged serial 'Blackmailer/Extortionist, Fejiro Oliver, the alleged planned/sponsored mass protest would attract other hired protesters from outside the shores of Nigeria, would be carried out in no distance time.
According to the statement, "Patriots, 3000 T-shirts have been printed abroad with banners designed in USA for the day. Yours faithfully and the Nigerian team have gotten hold of 2000 T-shirts already sent from abroad", Fejiro Oliver said.
Governor Okowa's unconfirmed media aide had confided in some close associates of his that, the governor and his Principal Secretary have allegedly budgeted over N300, 000 million to pursue the project.
It would be recalled that on resumption of office as Governor of Delta state, as a way and manner of witch hunting his predecessor, Okowa indicted former governor Uduaghan of plunging the state into a whopping debt profile of over N600 billion which later turned out to be lie and since then Okowa has allegedly vowed to bring down Uduaghan through all means using his alleged sponsored blackmailer, who is the owner of "Secret Reporters", an online news source.
It was gathered that the offence of former governor Uduaghan and others was the massive weight they threw behind another Peoples Democratic Party (PDP) candidate against him (Okowa) during the 2015 PDP governorship primaries.
A cross section of Deltans who are aware of Okowa's alleged cooked but sponsored mass protest using the alleged blackmailer, have condemned what they described as the alleged blackmailing activities of Fejiro Oliver on highly placed sons and daughters of the state and called on Okowa to as a matter of urgency warn and call to order his alleged sponsored "blackmailer and extortionist" and refrain from the unholy habit of tarnishing the good images of some respected and highly placed individuals in the state who have in one way or the other contributed their quota to the development and growth of the state and the nation at large.
In a press statement released by a group called 'Delta State Political Forum' signed by its National Coordinator, Chief Odima Afam Chukwu, the Secretary-General, Chief Ororo Dave Ogheneovo and the Publicity Secretary, Comrade Odume Val Odume and made available to newsmen in Asaba condemned in its entirety the alleged planned/sponsored protest against the former Chief Executive Officer of the state.
The group while warning Okowa to call to order his mad dog, noted "It is no longer news that, Fejiro Oliver, was sometime in 2014 arrested by the operatives of Department of State Security (DSS) on the instructions of the former governor of Niger state, Babangida Aliyu whom he had travelled to blackmail far away in Minna and attempted to extort from him a whopping sum of N50 million, luck ran against him and was arrested, paraded in the presence of both the print and electronic media and detained for several weeks before he was let off the hook through the assistance of Okowa who was then a member of the upper legislature", the forum alleged.
"If they say Uduaghan is corrupt, Okowa is also corrupt because he served in Uduaghan's cabinet in the past. We cannot forget in a hurry how Okowa sponsored EFCC to the state to arrest persons who served in the former governor Uduaghan's administration. We are also aware how Okowa is looting the state through phoney companies, using his brothers, friends, cronies to award billions of naira contracts to himself. We also know how Okowa is using the state funds to execute some of his constituency projects he failed to do during his days as a senator after collecting the money for such projects. Today DESOPADEC has no budget and Okowa cannot account for over N50.9 billion of the 13% derivation funds belonging to the commission", the group alleged.
"For how long shall we continue to fold our hands and watch this sponsored blackmailer destroy the good image of our sons and daughters all in the name of fighting corruption? Is Okowa and his Principal Secretary clean, are they saints? We have decided also that henceforth, we shall carry out an aggressive campaign of calumny against Okowa who is preparing for a second tenure and let's see who will blinks first. We have prepared some petitions on this blackmailer to security agents within the state and Abuja let's see how far he can run. He can run but cannot hide", the statement warned.
A top government official serving in the cabinet of Okowa and victim of Fejiro Oliver's blackmail, (name withheld) revealed how Okowa and his Principal Secretary have allegedly continued to sponsor the alleged notorious blackmailer and extortionist, using his blackmailing platform to allegedly blackmail and tarnish the image of former governor Uduaghan, former SSG, Macaulay and former government officials who served under Uduaghan's administration as well as persons tagged enemies of Okowa.
According to the top government official, "In the midst of financial crunch, Okowa and Ibegbulem still pumped money running into millions of naira to lodge him in five star hotels in the state. About a year ago, Okowa singlehandedly sponsored Fejiro Oliver's pregnant fiancee to abroad to deliver. Fejiro Oliver is a known blackmailer and extortionist working for my boss and his Principal Secretary. Once you can bribe him with certain amount of money, he declares you untouchable and shower encomiums on you", the official alleged.
"We have seen where my boss, the governor and his Principal Secretary have released classified documents concerning the past Uduaghan administration to Fejiro Oliver which he has used to write series of petitions to relevant anti-graft agencies where a kill and divide deal was entered into between the Fejiro Oliver and operatives of anti-graft agencies. Okowa's grouse is that Uduaghan and some of his cabinet members fought against his governorship candidacy as a result he will continue to unleash Fejiro Oliver on Uduaghan and others", Okowa's aide assumed.
"If you can still remember, because of the grouse, my boss, governor Okowa have to raise the alarm that Uduaghan, mercilessly looted the state treasury and left a debt profile of over N600 billion which later turned out to be a ruse. Fejiro Oliver is always afraid of only the dreaded people that he has attempted to blackmail and extort who have vowed to bury him alive should he try any nonsense with them. Fejiro Oliver will always spare you once you are ready to play ball but if you are not ready to play ball, he blackmails and tarnish your image you have taken your time to build for years.
"Former governor Uduaghan was the same person who singlehandedly assisted Fejiro Oliver's sister In-law into the prestigious Access Bank Training School and she was eventually confirmed as a staff but because former governor Uduaghan has refused to pay a blackmailer, Fejiro Oliver, he has continued to dance to the tunes of his sponsors by continuous blackmailing and tarnishing the image of Uduaghan and others. No one is safe with the blackmailer called Fejiro Oliver, even his sponsors aren't safe too but he forgot to know what his sponsors can do to him should he turn against them when his job is finished", the source further alleged.
"It was the same Uduaghan who used his personal money and state funds and instruments to back rolled the 2015 governorship election of Okowa against all odds. Don't forget also that Okowa has been in government in the state right from 1998 and he served as Secretary to the State Government under the first tenure of former governor Uduaghan before going to the senate. So, by implication, there is no way anyone will tag Uduaghan as a corrupt man without also mentioning Okowa too. You don't throw stones when you are in a glass house", the official noted.
Another respondent who took to his facebook page, Omo Kelvin said, "Governor ifeanyi okowa is sponsoring a campaign of calumny and PROTEST against the former Governor of Delta State, Dr Emmanuel Eweta Uduaghan. According to one of his ONLINE BLACKMAILERS Fejiro Oliver, he has financed them to print over 20, 000 Branded T shirts. According to the Paid apologist of Okowa, he alleged that the Edo state civil society members led by Kola Edokpayi would be part of this paid protest".
He alleged that Okowa has been unable to pay LGA workers for over eight months and still counting, even after receiving over N30 billion refund of the Paris club. Let it been known that, you were SSG to the former Governor, so what you are accusing him of today, you were a grand designer of it. Remember, you will not be Governor for EVER", he warned.
In what looks like confirmation to his ill-gotten proceeds from blackmailing and extortion business, self-styled Fejiro Oliver, had boasted that, "I can proudly beat my chest that I have choice lands in some states, I can stand head tall to say that the cars I drive and properties I developed and still developing were acquired through my efforts".
Meanwhile, it was reliably gathered that, the incessant blackmail of former governor Uduaghan and others is however not unconnected to the continued refusal of former governor Uduaghan to dance to the millions of naira bribe allegedly demanded by Fejiro Oliver.