YOUTH GROUP FELICITATES WITH YOUNG WAZIRI ON HIS BIRTHDAY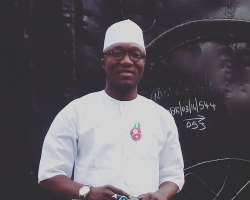 A youth group under the aegis of NIGER NORTH COALITION OF YOUTH FOR PROGRESSIVE DEVELOPMENT, NNCYPD, has fecilitated with young Kontagorian Entrepreneur, Mansur Abbas Waziri popularly known has Wazirin-Gobe on the occasion of his birthday on Monday, 23rd January, 2017.
The goodwill and birthday facilitation was contained in a press statement signed by the Chairman, Comrade Yusuf Adam Auna and the coalition's Secretary Miss Binta Joshua and made available to 1-PEN on Tuesday, January 24, 2017.
The statement reads "Today, we join Wazirin-Gobe's wife, femilies, friends, well-wishers and the entire good people of Kontagora emirate to celebrate, a young, gentle, moral upright and progressive brother and fellow Comrade has he adds a year".
The goodwill message described, Mansur Waziri as "one among the very few influential under 30's making great, meaningful and tremendous impact in virtually all spheres of both human and community development in and outside Kontagora emirate".
It noted that, "It is very difficult this days to see and meet with young person who just ordinarily rooted himself so deep down the grassroots for the sake of contributing his qouta towards human and societal upliftment".
While congratulating the celebrant and giving glory to Almighty Allah for guiding him, the statement charged the celebrant not to relent and remain focused in what he has and is still doing no matter the misconceptions and mis-interpretations people will give to the little but very impact-full activities and engagements, it stressed, while praying for many more glorious years in good health and state of mind.