THAILAND GOVERNMENT REJECTS BANGKOK PROTEST TALKS OFFER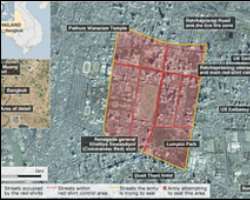 Thailand's government has rejected an offer of mediated talks with red-shirt protesters aimed at ending an increasingly violent confrontation.
Five days of street clashes between troops and protesters in Bangkok have left 37 people dead and scores injured.
Red-shirt leaders had earlier accepted the offer of fresh talks to be overseen by members of the Senate.
But the government the red-shirts had to leave their camp in the city centre before any talks could take place.
"The situation has escalated and become violent with armed groups and terrorists attacking the government, officers in the field and civilians," Cabinet minister Satit Wonghnongtaey said in a televised news conference.
Bangkok clashes: Map
"The situation could be resolved and lead to negotiations when demonstrators disperse."
The offer to mediate talks came from the head of Thailand's Senate.
Red-shirt leader Nattawut Saikua told journalists that the protesters backed the proposal because "if we allow things to go on like this, we don't know how many more lives will be lost".
The two sides have been trading increasingly bitter accusations.
The government accuses hard-liners within the red camp of using women and children as shields. At a press conference on Tuesday the military showed footage of what it said was a protester holding a baby over a barricade.
The red-shirts, meanwhile, accuse government troops of firing indiscriminately on them, although the army said troops were only firing live rounds in self-defence.
Late on Monday, the United Nations called on the protesters to "step back from the brink" and urged the government troops to exercise restraint.
Holiday extended
On Tuesday sporadic outbreaks of violence continued, but the BBC's South East Asia correspondent, Rachel Harvey, said that confrontations between troops and demonstrators appeared to be less intense than they once were.
But several thousand protesters remained inside the barricaded camp in the centre of Bangkok in continued defiance of government demands to leave.
RED-SHIRT PROTEST
14 Mar: Red-shirts converge on Bangkok, occupy government district
16 Mar: Protesters splash their own blood at Government House
30 Mar: Talks with government ends in deadlock
3 Apr: Occupy Bangkok shopping district
10 Apr: Troops try to clear protesters; 25 people are killed and hundreds injured
13-17 May: 36 killed in Bangkok clashes
Schools and government offices remained closed, and underground and elevated train services were suspended.
The government has extended the public holiday until Friday to allow more time to resolve the crisis – which has seen gunfire and explosions at a number of sites around the protest camp.
On Tuesday the military held a news conference, showing footage which it said showed that the red-shirt protesters were aggressors in the fighting.
The red-shirts have been protesting in Bangkok since 14 March. They are currently occupying the shopping district, forcing hotels and shops to close and affecting the city's economy.
The protesters are a loose coalition of left-wing activists, democracy campaigners and mainly rural supporters of ousted leader Thaksin Shinawatra, who has lived overseas since he was convicted of conflict of interest.
They are demanding fresh polls because they say the government – which came to power through a parliamentary deal rather than an election – is illegitimate.