Teenager saw mum 'having sex with FIVE of her classmates after plying them with booze at party'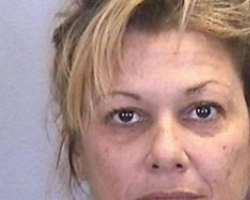 A Florida woman accused of having sex with teenagers is facing additional charges in connection with the same incident.
A total of five victims have now been identified, according to the Manatee County Sheriff's Office. Three of them are 16-year-old boys.
Jaimie Ayer, 40, was charged with an additional four counts of unlawful sexual activity.
The sheriff's office announced Thursday she was originally charged with three counts of unlawful sexual activity of certain minors. At that time, officials determined there were two victims, 16- and 17-year-old males.
All seven counts stem from an incident on Dec. 23 in which the Bradenton woman allegedly was giving alcohol and having sex with minors at a party hosted by her child. Students from two local high schools were invited, according to detectives.
Ayer allegedly gave the minors alcohol, told one she needed help showering and had sex with the 16- and 17-year-old boys, according to previous reports. She appeared intoxicated when deputies arrived at her home to arrest her Wednesday, authorities said.
The investigation is ongoing. Anyone with information is asked to call the Manatee County Sheriff's Office at 941-747- 3011 or Crime Stoppers at 866-634-TIPS.
Police files say: "Jamie continued to socialise and drink with the minors, eventually telling a boy that she needed to shower and that he should come help her."Instead, the blonde reportedly led him by the hand to a bedroom, stripped him and performed a sex act on him.
Another boy told investigators that he also joined in for "group sexual activity." And Ayer's daughter said she walked in and saw her mother taking part in sex acts with the 16 and 17-year-olds.
Ayer was initially charged with three counts of unlawful sexual activity with minors in Bradenton, Florida, but Local news channel WFLA reports she is now facing five charges.
2 Manatee County Sheriff's Office
 Source: Miami Herald/ The Sun