Accidental bombing: Death toll rises to 236 – LG council boss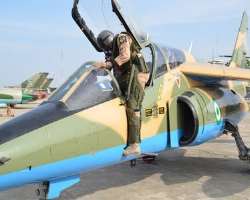 The death toll of last Tuesday's accidental Rann bombing in Borno State has risen to 236.
Already, over 200 of the deceased have been buried by their relations.
Chairman Kalabalge local government area Babagana Malaria stated these yesterday while briefing the Chief of Army Staff Lt. Gen. Tukur Buratai, who was on an on-the-spot assessment tour of the affected community.
He also demanded adequate compensation for survivors.
Malaria said: 'With what happened, we are begging Mr. President to compensate us.
'Many people have lost their lives; most of them were the bread winners.
'About 234 people and it's not a small number; we need to compensate these people.
'Yes! 234 buried by the community. And it's even more than this.
'The report I received from Maiduguri this morning was that two who are in the hospital have also died. Therefore we need to be compensated seriously.
Buratai, who was in Rann to assess firsthand the level of the Air Force operational bombing error, appealed to the indigenes not to lose hope in the Army.
He assured the incident will not occur again.
Buratai: 'These are the terrorists that came to attack here yesterday almost around 6pm on Thursday so they were able to repel them.
'The intelligence information we got from our partners was that Boko Haram terrorists were moving into this place and indeed the information was that they are already in this place.
'It's not unconnected because you saw them coming to attack them here.
'Probably it must be the information that was passed to the air component for them to take necessary actions and unfortunately a mistake happened and it has happened before in other places and we pray it doesn't happen again.
'They are believed to have been among those sighted by a partner Intelligence, Surveillance and Reconnaissance plane and the information sent to the Nigerian Air Force before the error occurred.'
Also, The International Committee of the Red Cross (ICRC) informed it has raised two surgical teams in collaboration after with Nigerian surgeons to take care of the wounded.
ICRC said over 100 injured people were evacuated from Rann to Maiduguri.
The surgical teams in Maiduguri have been operating on the most seriously wounded, including more than 20 children.
'Patients were taken to operating theatres based on medical priority.
'By Friday morning, 24 of the most critically injured patients had been operated on.
'Forty-four more patients will be operated on later today and tomorrow,' said ICRC surgeon, Dr Laurent Singa.
'One of our challenges was that there were many children, some of whom did not have a family member with them.'