Kendall Jenner's see-through top leaves the crowd at Paris Fashion Week seeing stars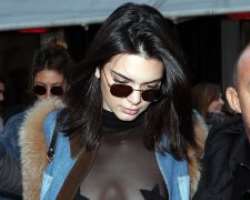 Kendall Jenner  dazzled the crowd in a black and white plaid gown as she walked the runway  for Givenchy's fall/winter 2017-2018 collection at Paris Fashion Week on Friday. But it was on the streets of the City of Light on Saturday where the 21-year-old supermodel really left photographers seeing stars.
The  Keeping Up with the Kardashians  star was snapped on her way to dinner at L'Avenue restaurant with friends, wearing a completely see-through top with no bra.
Of course, this isn't Jenner's first time wearing a sheer outfit . She kept her nipples covered this time with star pasties — similar to the ones she rocked in her Vogue Japan spread in September 2015.
Also helping hide Jenner's chest and keep her warm in the chilly weather was a stylish Sonia Rykiel cropped denim patchwork jacket with brown sued collar and fur sleeves. She paired the look with black and gold sunglasses and black cigarette pants.
Neil Warner / Splash News
At the Givenchy show on Friday, Jenner was joined by pal Bella Hadid . Cheering them on from the audience was 18-year-old Paris Jackson  — who is also rapidly climbing the ranks in the " model kids with famous parents club " first, posing in a series of photographs during a fashion magazine shoot in France .
Before heading to Paris Fashion Week, Jenner joined sister  Kim Kardashian West  in New York City on Monday to shoot cameos for  Ocean's Eight  — the all-female reboot  of Ocean's Eleven led by Sandra Bullock .
A source close to the film confirmed to PEOPLE that the sisters would be making cameos in the upcoming she-quel, in what fan believe to be scenes for a fake Met Gala scene .
The duo were dolled up in lace dresses for the shoot, with Jenner donning a short-sleeved white gown while her big sister rocked a white fur jacket over her sheer gown.
They're not the only celebrities adding their star power to the already all-star cast. Adriana Lima and Met Gala organizer Anna Wintour have also appeared on the set, and Katie Holmes even confirmed she'd be playing herself in the movie.