I can't stop talking to women because I'm married to Foluke Daramola – Husband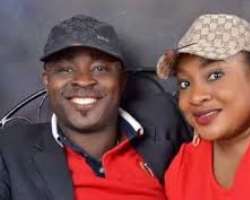 Kayode Salako is married to popular Nigerian actress, Foluke Daramola.
In a chat with Saturday Beats, the actress' husband said he was shocked to realise that some Nigerians especially men are out to destroy his marriage.
He said it baffled him that some men would go to the extent of texting his wife whenever they saw him with another lady even though they are fully aware that he is a socialite.
He said, 'The truth is that all these people that want our marriage to crash are not strong enough because I married my best friend. Our marriage is stronger than whatever plans they have for us. What baffles me more is that it is men that are praying for us to have a crisis. If it were to be women, I would understand because women are known to like to gossip but it is the men that are responsible for this. It makes me ask what they are up to; what is their interest? I was having a business meeting with a lady and I noticed another guy was also at the same venue with a lady as well. The guy actually picked up his phone to text my wife that I was with a lady at a restaurant. I am 45 years old, if anyone thinks that my life revolves around my wife alone, then they should have a re-think. No man in life can prosper without associating with women and that is why God created Adam and Eve. I cannot stop socialising with women because I am married to Foluke Daramola but that does not mean that I want to send her out of my house or I want to marry more wives. As human beings, you have to interact with both men and women. Has anyone ever seen a church or mosque that is solely built for men? It simply means that we all need ourselves. People should mind their business and stop trying to destroy my marriage.
'Some people would text my wife telling her that they saw me with another woman, I want these people to know that I am in a marriage and not in bondage. I cannot say that because I am married to a celebrity, I would be in bondage. I married my wife because I love her and nothing more. My wife did not marry me as a brother from church, she met me as a socialite and I would continue to be one. I cannot say that because I am married to Foluke Daramola I would not socialise with people; both men and women.'
Salako said people should be aware that the actress has dedicated the best part of her life to make them smile. He then warned them to mind their business and leave his home alone in peace.
'It baffles me that some people are after the downfall of their fellow human beings. Some people are eagerly waiting for something bad to happen to my marriage with Foluke. He said people should keep encouraging her to make her marriage stronger instead of sending her suspicious text messages asking if our marriage is still intact,' Salako said.
The socialite was quick to add that he was not speaking out in defence of whatever allegations people have against him, but that he just wants to be left alone in peace with his wife.
Salako added that the last thing he would ever do is to put his marital problems on social media.
'Some people might think that I am speaking up because I am trying to defend myself of whatever allegations they have because I could have decided to keep quiet but the truth is that I don't have any problem with my wife. I love her very much and she is the only woman for me. If I have any problems at home, I would never bring it on social media. It is only illiterates that do that; in fact even illiterates don't do that. Anything I post on social media ranging from topics on marriage to politics is because I want to enlighten people. If there is any issue at all between us, it would never be on social media,' he said. - Culled from Punch.