Segun Oni Set To Chair J9c's 5th Anniversary Lecture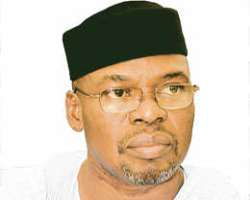 A socio-economic group, January 9 Collective (J9C) has announced former Governor of Ekiti State, Olusegun Oni, as the Chairman of the 5th edition of its annual lecture series scheduled for Sheraton Lagos Hotel, Ikeja, Lagos on Tuesday, January 31, 2017.
J9C is a non-governmental and non-partisan group founded in 2011 by like-minded Nigerian professionals with the core objective of influencing policies in the public and private sector towards a greater Nigeria. The group seeks to promote good governance at all levels of government especially by identifying, rewarding and encouraging initiatives that support the individual and collective aspirations of Nigerians for a better life.
In a release signed by J9C's Publicity secretary, Mr. Abiodun Kupoluyi, the theme for this year's lecture is "how to drive national prosperity and grow employment by leveraging Micro-Credit strategies".
The Annual J9C Lecture series has in the past hosted several distinguished Nigerians either as Guest Speakers or participants. These include the current Governor of Lagos State, Mr. Akinwumi Ambode; Anthony Kila, Professor of Anthropology and International Director of studies at the European Centre of Advanced Professional Studies ; Rt. Hon. Aminu Tambuwal, now Governor of Sokoto State; Dr Olusegun Aganga, then Minister of Trade and Investment; Mr. Jimi Agbaje, a former PDP Governorship aspirant in Lagos State who delivered the inaugural lecture in 2012 and Mrs. Ndudi Nwuneli, founder of LEAP Africa who was a Guest Speaker at the 2016 event.
Elaborating on the choice for this year's theme, the group's helmsman, Captain Wole Olagundoye stated that it was inspired by the great difficulty aspiring businesses contend with as a result of the inadequacies of conventional financial solutions. According to him, this naturally worsens the state of unemployment and increases the misery experienced by the citizenry. Olagundoye asserts the group's conviction that there are many lessons to be learnt from best practices and wealth of experience that abound in successful African and International markets.
Last year, the lecture's theme: "SMEs, the engine room of the economy; who is talking to them?" was robustly discussed and attended by hands-on entrepreneurs, subject matter experts, enthusiasts, politicians, activists and top government functionaries.
Segun Oni
Wole Olagundoye