Buhari takes 10-day leave, Osinabjo to act as President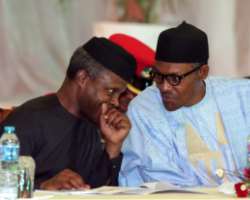 President Muhammadu Buhari has written the National Assembly to inform it that he would be proceeding on leave.
Senate President, Bukola Saraki, during the plenary session on Thursday read the letter from President Buhari informing the Upper House that the he will be proceeding on a 10-Day Annual Leave Vacation, starting from January 23 to February 6
Buhari in the letter letter, which was also forwarded to the House of Representatives, notified the legislators of his intention to transfer  power to Vice-president Yemi Osinbajo for the 10-day period.
It is the third time Mr. Buhari will be transferring power to Mr. Osinbajo to act as president, since the two leaders were inaugurated in May 2015.
The first time was in February 2016 when the President embarked on a five-day vacation; and the second time was in June 2016 when Mr. Buhari went on a trip to the United Kingdom for medical for treatment of what the Presidency called ear infection.
A formal notice to both chambers of the National Assembly to appraise the lawmakers of intention to go on leave and handover power temporarily to the vice-president is in compliance with Section 145 (1) of the Nigerian Constitution.