UMU ANIOMA FOUNDATION ANNOUNCES NEW BOARD OF DIRECTORS FOR 2010-2011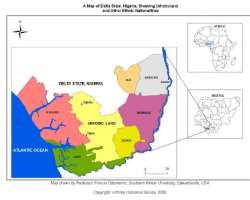 Atlanta, Georgia (THEWILL) May 17, 2010 – A new era of Anioma Leadership and Responsibility is born as the Umu Anioma Foundation has announced its new board of directors.
"We are especially excited about the potential contributions of this new breed of Anioma Leadership," notes The Umu Anioma Group Convener, Prince Emmanuel O. Ohai. "During the nomination process we specifically sought Anioma Leaders who will seek to impact the lives and drive the economic, social and political well-being of the Anioma Community through Awareness, CHANGE and Determination".
This board of directors also known as the "Anioma New Leadership Council" assumed their duties on May 16, 2010.
Umu Anioma Foundation would like to congratulate the following on their appointments as members of the Umu Anioma Foundation Board of Directors
Adigwe, CaesarMokwenye, Ngozi Molokwu, HenryNdikanwu, AnthonyNicholas, ClementinaNwaise-Sowole, Esther IfyOhai, Emmanuel Okafor, Chris Okolo AndyOkolo, BenjaminOnwueme, CatherineOsadebey, Michael EziashiOyali UchennaSmith, Alister Chukwukadibia
ABOUT UMU ANIOMA FOUNDATION
UmuAnioma Foundation exists to foster fellowship of its members, guided by the sense of justice, integrity and honesty, individually committed to excellence in our performance and promoting unity among the various Anioma groups towards the economic progress and strength of our people in Anioma land.
Membership is open to all bona-fide Umu Anioma and their spouses Worldwide. Subscribe to Umu Anioma Group at: https://groups.yahoo.com/group/UmuAnioma/
Media Contact: Clementina Nicholas, Interim Secretary to the Board of Directors.P.O. Box 391431Snellville, GA 30039E-Mail: [email protected]