GENERAL MOTORS SEES FIRST QUARTERLY PROFIT SINCE 2007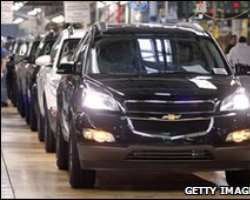 General Motors is 61%-owned by the US government
US car giant General Motors has reported its first quarterly profit in nearly three years.
Dramatic cost-cutting and strong sales of new models helped it make $865m (£600m) in the first three months of 2010, it said.
This compares with a $6bn loss in the same period a year earlier.
GM, which filed for bankruptcy protection last year, has closed 14 factories and shed more than 65,000 jobs in the US.
It has also sold or dropped unprofitable brands such as Hummer, Saab and Saturn.
GM came out of bankruptcy protection in July 2009.
It said that its spell in bankruptcy had allowed it to slash its debt and other expenses – another reason it made money in the period.
Last month, it emerged the firm had repaid $8.1bn in loans it had received from the US and Canadian governments.
But GM, which owns the Vauxhall and Opel brands, still owes $45.3bn to the US and $8.1bn to Canada, money it received when the US and Canada took large stakes in the company.
Sales at GM rose to $31.5bn in the first three months of the year, up from $22.4bn in the first quarter of 2009.