Arg Commemorates Awolowo's Education Policy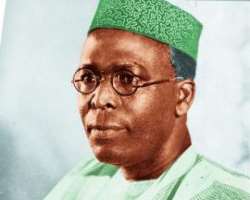 The Afenifere Renewal Group (ARG) has described January 17 as the greatest day in the history of modern Yoruba society, being the day the Action Group government's education policy was launched.
The pan-Yoruba sociopolitical group, in a statement signed by its publicity secretary, Kunle Famoriyo, said the policy remains an enduring legacy, which in a twinkle changed the fortune of Western Nigerians.
The statement quoted Emeritus Prof Richard Sklar who, in writing about the policy in 1963, said that: "Possibly no single decision of the decade prior to independence had been more fateful for the development of the political economy of Nigeria".
The group therefore charged the governors and local government administrators in Southwest region on the need for urgent education reforms that will put education back on the driving seat of the society's development aspirations, while noting that loss of the gains made there from is haunting us.
"Our leaders need to re-adopt Awolowo's welfarist stance summarised in the late Sage's statement: 'As far as possible, expenditure on services which tend to the welfare and health and education of the people should be increased at the expense of any expenditure that does not answer to the same test"
The group listed what it called three dividends of the policy by virtue of which it said "Awolowo will continue to be the reference point for political leadership, particularly for Yoruba people and his remains the kind of leadership they deserve."
"First, the policy liberated the womenfolk and resolved the issue of gender parity even before any global affirmative action began. Prior, education of the girl child was considered a waste and statistics showed that only one in five students in the then Western Nigeria was a girl. All that changed with the free education policy."
"Second, the policy made education the pivot upon which the organisation of the society revolved and this philosophy of governance has proven to be a masterstroke for Yoruba people in terms of social engineering and advancing the cause of humanity. Yoruba people, whether at home or abroad, have made and continue to make crucial contribution to humanitarian causes on the global scene and have registered some laurels."
"Third, the education policy proved also to be prophetic in its own right. Little did anybody know that an outright strange, if not stupid, philosophy of governance would soon ravage Nigeria through military might, seeking to subsume every other cultures under it. But when it came eventually, it met a prepared army of educated masses, which has been the bulwark of Yoruba nation till now. It proved that wisdom is better than might."