niger State Ministry Of Health Sets Annual Operational Workplan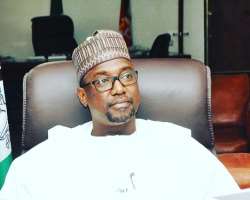 The core mandate of the Niger State Ministry of Health as to nurture and oversee a robust and resilient health system capable of providing accessible and affordable health care to all Nigerlites wherever they may reside, the Niger State Ministry of Health has kicked-off a week-long AGENDA setting for 2017 with a sole aim to translate from paper to field, the Governor's Health Sector Restoration Agenda hich is a conscious attempt at revamping the Niger State health system to deliver the much needed quality health services to Nigerlites, while aligning with national and international agenda for sustainable development and within the context of local realities.
The Niger State Ministry of Health has transformed from just an organizational structure to a very critical and important organization which is why the annual operational development plan cannot be over emphasized. The week-long AGENDA SITTING began on Monday, 16th of January, 2016 to end on Fridday, 20th Januray, 2017 at Safara Hotel, Kontagora Local Government Area of Niger State.
The objective of the AGENDA SETTING it was gathered is "to develop a consolidated, comprehensive and costed 2017 Annual Operational Plan (AOP) for the States' Health Sector" with specific objectives "to develop an AOP that aligns with the Niger Health 1.0, to build participants competence in designing Program work-plans and track program performance key indicators and to enhance the technical capacity of DPRS staff, program managers and officers on work-plan development".
Nigerlites recall, in Late December, 2016, the Health Ministry held a leadership retreat tagged "Building Effective Teams for Results: PHC Revitalization for Improved Health System Performance in Niger State" that aimed at creating a platform for leaders of the health sector in Niger State to engage in frank discussions of the challenges facing the health system with a view to defining a clear roadmap for translating the Governor Abbubakar Sani Bello's led policy initiative.
Expected outcome after the 2017 ANNUAL OPERATIONAL PLAN includes but not limited to ; a consolidated, comprehensive and costed 2017 Health Sector Annual Operational Plan, AOP is developed, an AOP that aligned with the Niger Health 1.0 and all the participants competence on AOP developed.
There will be no more excuses for our failures under the watch of Mr. Governor, Alhaji Abubakar Sani Bello, so, we need to buckle up, give our best and pray for our collective successes, the Ministry's Commissioner, Dr. Mustapha Jibril stressed.
Earlier, Governor Abubakar Sani Bello was quoted saying "my Health Sector Restoration Agenda , as a framework for action, has been formulated to help the leadership of the health sector at all levels to forge a common understanding of the action steps needed to purge the health system of all forms of inertia and ginger it to improve its performance".
The 2017 Niger State Ministry of Health Annual Operational Plan is supported by ; Health Strategy and Delivery Foundation (HSDF), a non-profit firm established in December 2013. The organization was established to improve the quality of decision-making and execution in the health sector. HSDF supports key stakeholders at all levels of the government and private sector by providing strong analytical support and deploying innovative frameworks and tools to generate measurable and sustainable results.
And ; Clinton Health Access Initiative (CHAI) Nigeria. The Clinton Health Access Initiative, Inc was founded in 2002 with a transformational goal: help save the lives of millions living with HIV/AIDS in the developing world. CHAI operates with approximately 1,500 staff across the world and operations in 33 countries, CHAI's reach is truly global. More than 70 countries are able to access CHAI-negotiated price reductions for key high-quality medications and diagnostics.