Fayose sympathises with victims of Borno IDP camp "accidental" air strike, calls for investigation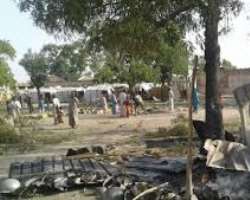 Ekiti State Governor, Mr Ayodele Fayose has commiserated with families
of the victims of yesterday's "accidental" air strike by men of the
Nigerian Air Force of 'Operation Lafiya Dole' in the Rann Internally
Displaced People (IDP) camp in Borno State.
The governor, who said it was strange that the military could
"mistakenly" bomb an IDP camp that it created and aware of the
location, called for thorough investigation by both the military
authority and the international community to ascertain what actually
happened.
He chided President Muhammadu Buhari for jumping into conclusion that
the air strike was a mistake, saying; "by saying it was accidental,
the President already foreclosed investigation, which he ought to have
ordered before jumping into conclusion."
In a release issued on Wednesday by the Special Assistant to the
governor on Public Communications and New Media, Lere Olayinka,
Governor Fayose maintained that "it is obvious that the Federal
Government is still deceiving Nigerians on its handling of the Boko
Haram insurgency because it is strange that the same Boko Haram that
they said had been defeated were the ones they claimed the military
wanted to attack with fighter jet."
"I sympathise with those hapless Nigerians who escaped death from the
hands of Boko Haram insurgents only to be killed by the same authority
that should be protecting them. May Allah (SWT) forgive their sins and
grant them Al Jannah Fidau.
"It is also my prayers that the Almighty Allah (SWT) will console
their families and grant them the fortitude to bear the irreparable
loss.
"I also call on all necessary authorities in Nigeria as well as the
international community to investigate the incident with a view to
unravelling whether or not the air strike was a mistake. And if it was
indeed a mistake, what led to it must be unravelled," the governor
said.
While maintaining that Nigerians were not being told the truth about
the Boko Haram insurgency, Governor Fayose said; "In as much as they
are making efforts, which must be commended, the federal government
must stop deceiving Nigerians.
"First, they said they have defeated Boko Haram technically. Later
they claimed Boko Haram flag was captured and went on to display the
'captured flag' at the Presidency. But look at what we are witnessing
now. Look at bombings and attacks here and there by the same Boko
Haram they told us had been defeated.
"If indeed Boko Haram had been defeated, what was the need for the air
strike that led to the killing of those Nigerians in the IDP camp
yesterday?
"I can't join them to lie. I say the truth and stand by it. Over 800
people were killed in Southern Kaduna, but what are they telling
Nigerians? They are even saying it with glee that just 204 people were
killed and not over 800 as claimed by the Catholic Archdiocese of
Kafanchan. Even if those killed in Southern Kaduna were 204, is that
not enough a tragedy that should bother the federal government?
"At this period, what Nigerians deserve from government at all levels
is the truth and it is only the truth the can set the Nigeria and its
people free from all these calamities."