EU MINISTERS IN HEDGE FUND TALKS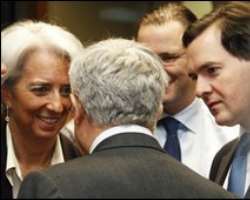 Chancellor George Osborne will restate UK objections to the plans
EU finance ministers are meeting in Brussels to discuss hedge fund regulation.
The gathering comes hours after a key committee of Euro MPs backed a directive that may lead to greater supervision of the hedge fund industry.
Tuesday's meeting is an important test for the new UK Chancellor, George Osborne, with 80% of European hedge funds based in London.
Many blame hedge funds for worsening the effects of the financial crisis.
BBC Europe business reporter Ben Shore said some European governments were "worried hedge funds pose a risk to the stability of the world's financial system and so are seeking to impose more regulation on them".
It is thought Mr Osborne will restate the UK's objections to some of the proposed new regulations.
Limits
The European Commission wants new rules to overcome what it sees as gaps and inconsistencies in existing, national regulatory frameworks.
However, the US government has argued the EU plans are protectionist.