Anambra Governorship Election 2017: Demagogues know the price of everything and the value of nothing……….Pharm Ikechukwu Klinsmann Ohamadike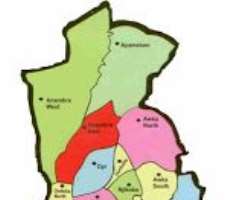 "Lightning flashes, sparks shower; in one blink of an eye, you have missed seeing."…Sayings of Zen
The Storm is gathering once again in Anambra State. Strategists are back to work and with them came Predators seeking to reap from an impending confusion which they themselves will create. Anambra and her citizens have experienced the worst kind of Political injustice since the last couple of years, the type of which no state in Nigeria should ever pray for. Law abiding tax payers have become the tragedy of this marriage of confusion, institutionalized manipulation and irresponsible leadership. This lack of enlightened leadership made worse by a dysfunctional political and economic status quo gave rise to desperate abandon, sycophancy, opportunism, personal aggrandizements and reckless policy direction, all at the detriment of the masses
The greatest obstacle to progress in Anambra state is irresponsible Politics – fueled by demagogues who know the price of everything and the value of nothing. Politics is the hunting ground of demagogues who thrive only in their comfort zones of self-inflated bubbles, creating confusions using the instrumentalities of aggressive propaganda marketing and post-truth hybrid manipulation techniques. They have re-appeared again, calling meetings, making nocturnal consultations and erecting billboards for Governorship and hoping that gullible electorates will make the same mistakes of the past
But 2017 is the year of the ballot. It will be a make or mar period in the evolution of democracy in Anambra State. Leadership is all about service but alas this service has been terribly abused by those who profess to uphold it. Should we allow predators to once again rape democracy? Should we continue to sacrifice competence on the altar of mediocrity? There comes a time when silence is betrayal. Should we continue to dwell in Silence?
This is a time to make hard calls. As we run to pitch tents, we should rather ask ourselves "is this the kind of leadership that would be best for me, my family and my children in the years ahead. We must face up to this.

"Our lives are not our own. We are bound to others, past and present, and by each crime and every kindness, we birth our future."…… Cloud Atlas
For progress to be possible in 2017, we must first have to change the way we think and the way we do things in Anambra State. We must resist all predatory demagogues. We must ask the right questions and ponder on issues instead of dwelling on bags of salt and rice which will soon be flying all over the places – gifts from demagogues. What are the ideologies, principles, manifestoes and mission statements of those whom we wish to make Governorship? Can they defend their own manifestoes, are their proffered solutions to existing problems feasible? Or should those hypothesis create more problems to prevailing complex problems.

"Nothing is easier than blaming others for our troubles, and absolving ourselves of responsibility for our choices and our actions. Anybody can do that. Responsibility and leadership in the 21st century demand more." Barack Obama
It's time to stand up for choices we make and that decision starts from today. Can you take a stand against irresponsible leadership? Can you become that change that you seek in the state? Twenty years from now you will be more disappointed by the things that you didn't do than by the ones you did. Would you rather accept that money today to support a candidate when your conscience is in conflict with such action? Will you sell your children's future?
Anambra is calling courageous Men, Women and all people of conscience today to make hard choices. Will you answer?

Pharm Ikechukwu Klinsmann Ohamadike
(Author of ..Top Secret: Hidden Laws of Political Power. Release date- April 2017)
Former Team Leader ICT & Digital Campaign Unit
Tony Nwoye Governorship Campaign Organization 2013