Human Rights Day: NHRC Decries Alarming Conditions Of Women In IDP Camps, West Africa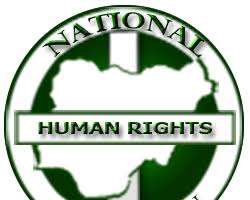 The National Human Rights Commission (NHRC) has on Monday expressed deep concerns over the alarming conditions of women in Internally Displaced Person's(IDP) camp as well as the large number of stateless women in West Africa.
Speaking in Abuja at the maiden edition of the ECOWAS Human Rights Day, the Acting Executive Secretary, Mrs. Oti Ovrawah lamented that of the 750, 000 stateless persons in West Africa, Women constitutes 60 per cent.
Ovrawah who is also the President,Network of National Human Rights Institutions in West Africa(NNHRI-WA), noted however that the theme of the celebration, 'The Rights of Women and Young persons' is apt as it focuses attention on the plight of women across all places in West Africa where there have been violence in recent times.
According to her; "At the inception of ECOWAS in 1975, human rights was not regarded as priority, ECOWAS is increasingly accepting the fact that respect for and observation of human rights obligations is a necessity if community citizens must enjoy economic and social rights. The celebration is one that should be used to map out strategies for tackling human rights challenges that face the region.
"You will recall that human rights challenges in the region are many. These range from poor prison conditions, weak criminal justice administration, poor access to education and information, violence against women, child abuse and poor access to health amongst others" she said.
She further implored ECOWAS Commission to establish a protocol to ensure the effectiveness and activeness of all National Human Rights Institutions through well trianed personnel and adequate funding, adding that development partners and inter government institutions should not relent in assisting to advance the course of human rights in the region.
In his remarks, the Director Political Affairs ECOWAS, Dr. Remi Ajibewa noted that the celebration is not a misplaced priority as it seeks to lay a new foundation in Nigeria for improved efforts to promote and protect human rights for the citizens.
He called on the government to expedite actions and efforts in the passing of the Gender Equality Bill to help improve respect for women and to work out deliberate policy direction aimed at promoting the 35 per cent inclusion policy of women in every facet of government in Nigeria.
Also speaking, the Head, Human Rights Watch, Nigeria, Mrs. Segun Mausi, expressed dismay at the level of trafficking for women which she said has continued to be a scourge and an embarrassment for women to be held against their will, adding that the right of women can no longer continue to be ignored.
On the 16th of December 2016, following earlier approval by ECOWAS Council of Ministers, ECOWAS unanimously adopted 16th January as ECOWAS Human Rights Day