Mass sack looms as domestic airlines struggle into 2017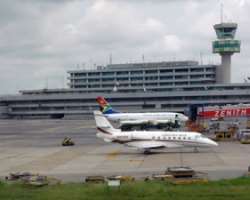 Nigeria's domestic airlines are likely to post operating losses in the year ended December 31, 2016 as they struggle to source funds to remain in business.
It was learnt that exorbitant cost of foreign exchange and aviation fuel took a heavy toll on their overhead during the year, severely eroding their profits and leaving them prostrate and in need of government bailout.
Government sources however hinted that some airline operators have already approached the Federal Government with facts showing that the industry is on the brink of a collapse amid low revenue owing to a reduction in passenger patronage on most routes outside the Lagos, Abuja, and Port Harcourt airports.
An operator disclosed that the industry may make massive cuts  on staff strength with some of the airline's increasing air fares within the first quarter of the year as part of measures to weather the storms and remain in business.
'Last year, operators watched helplessly as cost of aviation fuel  (Jet A1) which hitherto accounted for about 40 per cent of overheads shot up to over 55 per cent following a 100 per cent rise pump prices of Jet A1 from N120 per litre to between N240 and N270 per litre,' said a spokesperson for one of the local airlines who didn't want to be named.
'In the same vein, airline operators battled an ever escalating cost of forex cost (particularly the dollar) which rose to N490 to $1USD at the end of 2016 as against the N250 to $1USD in the preceding year. I don't think any airline will declare a profit last year.
In fact, right now the plans by many is to find ways to lay off staff and to increase air fares to match the reality on ground,' he added.   Chairman, Airline Operators of Nigeria (AON), Capt. Nogie Meggison, told journalists that the scarcity of forex and aviation fuel is responsible for the inability of airlines to pay mandatory premiums to foreign underwriters.
Scarcity and high cost aviation fuel has led to 30 per cent flight cancellations and 70 per cent of delays at various airports across the country with the attendant inconveniences to passengers and losses to airlines.
The industry is believed to be losing about N200million each day there were disruptions in flights owing to fuel scarcity. The government late last year stepped in to create a special window that allows the CBN allocate forex to airline owners to buy spares.
But until that was done, the bulk of operators had to source for forex at the parallel market. The trend had led to inability of most airlines to operate at maximum aircraft capacity as routine maintenances usually done abroad in forex were either cancelled or deferred.
The Managing Director of Katari System Nigeria Ltd., Mohammed Magashi, who spoke on 'Financing Nigerian Aviation: The Option For Growth'  at an aviation stakeholders meeting noted that the high interest rate charged airlines by commercial banks in the country has also constituted a big obstacle to the growth and prosperity of the industry.
Analysts have also listed other funding  barriers on the airlines path of growth include: poor credit rating, over regulated financial system, which according to him impedes on simple and genuine foreign currency transaction, the over regulation and the huge capitalisation and procedures including the minimum of three aircraft demanded by the Nigerian Civil Aviation Authority (NCAA), which mar attempts by prospective investors to float new airlines in the country.
For the Nigerian aviation industry to grow with airlines recording profits and dividends for investors, the federal government must wade speedily into the crisis forex and fuel crisis so that a conducive investment climate is created for investors.
The Nigerian aviation sector is believed to be contributing a meagre 0.04 per cent to the nation's GDP.
Investors in the industry also said if the figure is to be improved upon to contribute more to efforts to diversify the economy and grow the non-oil sector with massive job creation opportunities for citizens, particularly  in the aviation sector, then there should be serious efforts towards the establishment of a national or flag carrier that would boast of aircraft fleet in excess of 50. - The Sun.