CREATE JOBS FOR THE YOUTHS OR FACE SECURITY CHALLENGES - Senator Mohammed Ali Ndume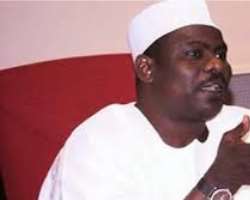 The immediate past Senate Leader, Senator Mohammed Ali Ndume has said that unless deliberate effort at addressing the Issue of unemployment, poverty and lack of education, the insecurity problem such as kidnapping, Boko haram insurgency and communal clashes will continue to face the nation.
He said " I am worried by the level of unemployment, poverty and lack of education among our youths. If concerted and deliberate action is not put in place, the level in kidnapping, Boko Haram insurgency and communal clashes will continue"
"I couldn't believe it, the day we went to Sokoto, some youths were chanting ,"Ku bamu aiki, ko mu mu baku" (meaning provide job for us or we will do something to you our leaders) this is an indication that there is great danger before us if we do not act fast and address the issue of poverty and create job"
Senator Ndume said as a political leader they have the responsibility to create jobs and enabling environment for all citizen to survive and leave comfortable, stressing that that the cardinal responsibility of every government is to provide security and welfare to its citizens.
Speaking on 2019 politics , he said his destiny is in the hands of God as his initial plan when he joined politics, was to be chairman of his local government but he ended up being a member House of Representative and subsequently a senator.
He wonders why Nigerians believe that the bulk of the national budget goes to the National Assembly while most of the budget goes to the civil servants, adding that most National Assembly members end up finding difficulties in paying even the school fees of their childrens.
He lamented the ignorance of the people who believe that members of the National Assembly share the money allocated to the National Assembly among themselves and thereby amassing wealth for themselves.