Dr. Jibril Condoles Senator Zainab Kure Over Death of Husband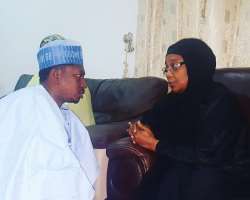 The representative of Governor Abubakar Sani Bello at the Niger State Ministry of Health, Dr. Mustapha Jibril has on Friday paid a condolence visit to the Wife and Family of Former Niger State Governor, Late Engr. A.A Kure who died in Germany at the age of 61 leaving behind 6 children.
Dr. Jibril described Late Engr. A.A Kure a distinguished role model to especially public officers adding that, the former Governor is "a man of peace, tranquility and compassion whose developmental legacies can never be over accentuated".
The Commissioner noted that, the growth of Nigeria's democracy, peaceful co-existence to mention but a few cannot be written without acknowledging the selfless service and sacrifice of Engr. A.A Kure who was a 2 term Governor of Niger State from 1999 to 2007.
He prayed that Almighty Allah forgive the shortcomings of the departed, shine his grave with HIS unconditional mercies and make Al-jannah firdause his final resting place as well as give his wife, children, family, friends, well-wishers and Nigerlites at large the fortitude to bear the irreversible loss.