US GOVERNMENT DONATES MOBILE TENTS TO BORNO POLICE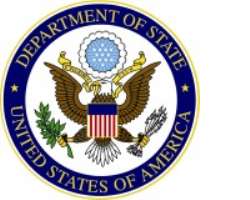 The United Sate of American (USA)has donated mobile tents to the Nigerian Police to facilitate the restoration of civil authorities in the librated areas and the internally Displaced Persons (IDPs) camps, through the maintainance of law and order.
Receiving the tents and signing the memorandum of Understanding on behalf of the Nigerian Police and the US government, the Inspector General of Police (IGP) Ibrahim Idris said the " today's occasion is an epic one in the history of Nigerian Police, as we are taking the delivery of the tents provided to us by the US government. These items will help in no small measures in our quest to restore law and order in the librated communities."
The IGP who was represented by the AIG zone 12, AIG, Yakubu Jibrin said many police stations and barracks were destroyed by the Boko Haram insurgents, stressing that the tents will provide temporary accommodation to policemen in the IDP camps and in the librated communities as IDPs return to their various communities.
He commended the US government for not only taking the delivery of the tents but also agreed to train police personnel in capacity building, which according him will fast track the restoration of peace in the librated communities,
In her speech, the representative of the US government Mrs. Rusalyn Wise said the pilot project is covering Ngazai, Mafa and Bama local government areas, as most of the local governments in the state suffered a lot destruction by the activities of Boko Haram insurgents.
Mrs. Wise said "the mobile tents will assist in providing temporary accommodation to the personnel of the Nigeria Police in the IDP camps and when they return to the librated communities."
She said the delivery of the tents was part of US determination to assist the government and people of Nigeria in restoring civil authorities in the librated communities.
Earlier, the Police commissioner, Borno state Police Command, Mr. Damian Chikwu said, with the attainment of relative peace in the state, as a result of the liberation of many communities by the military, the rebuilding and reconstruction process has commenced, hence the need for the police to ensure law and order in these communities.
At a courtesy call on Governor Shettima who commended the role of Nigerian Police in the counter insurgency war, he said Police is the closest to the people and assured that the Borno state government will continue to assist them.
He pledged to rehabilitate the Police College Maiduguri to provide conducive environment for learning and training.
Add as contact Send new message Copy address only Copy name & email