The club owner leashed women with chains on their neck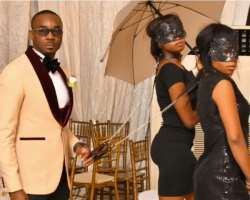 The club owner leashed women with chains on their necks and made a surreal show out of it. He jovially paraded them at wedding ceremonies to reduce the female gender to nothing but dogs that can be controlled. Just throw a bone at them and they would follow you in chains to wherever.
@prettymike's animalistic effrontery stems from societal acceptance of ill gotten, questionable wealth and its glorification. Any fraudster or drug trafficker in today's Nigeria is hallowed and hailed with prominence. I saw and watched the videos of the pervert debasing womanhood on his social media pages. I just wanted to confirm that it wasn't photoshopped or a movie scene.
Did the images damage my psyche? Not even Charlie boy degenerated to such obscenity to prove freedom of expression. Pretty Mike believed he could pull this sexist stunt and the authorities will not bat an eyelid. We await his formal prosecution at a court of competent jurisdiction. No sane society will tolerate neo-slavery under any guise with or without the consent of the victim.
I have been yearning for @areafada's comment on this trending mishap. For those miscreants and vile influencers who think the Lagos state police command is taking this too far, shame on you. If we don't nip impunity in the bud, pretty mike may one day appear at a wedding ceremony with his penis in the mouths of two paid ladies. That day will never come, if we speak up now and allow the criminal investigation to take its course.
Disclaimer:

"The views/contents expressed in this article are the sole responsibility of the author(s) and do not necessarily reflect those of The Nigerian Voice. The Nigerian Voice will not be responsible or liable for any inaccurate or incorrect statements contained in this article."