TeeBillz recovers, seeks attention to mental health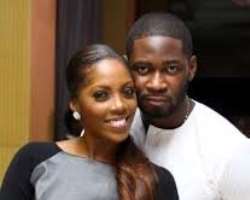 Nothing takes the place of experience, even money won't. This explains the axiom: experience is the best teacher.
Many would recall the whole emotional story that stirred controversy between Tunji Balogun a.k.a. TeeBillz and his wife, Tiwa Savage.
That he attempted suicide after almost succumbing to despair, and consequently transferred that aggression on his wife, remain nearly unforgettable.
But the dust seems to be settling on all the agonizing developments that once made the headlines, and the victim is becoming an activist to help vulnerable people.
After going for rehabilitation, Teebillz is back, better and more prepared to deal with life and its travails despite the scandal that rocked his marriage.
Now that the couple is back together and trying their best to make their marriage work, TeeBillz, who once left social media when the controversy started, has commenced using the same platform to canvass on the need to seek help when necessary before the psychological and emotional breakdown takes the better part of the vulnerable.
Understandably, many still believe all is well but a publicity stunt just to stay relevant since his hiatus from the spotlight is now over. - New Telegraph.