Ekiti APC Youths reject Fayemi's commissioner, Eniola Ajayi as Ekiti ambassadorial nominee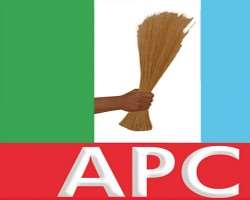 We, the Ekiti All Progressives Congress (APC) Youths Congress (EAYC) received with shock and disbelieve the nomination of Dr Eniola Ajayi as the Ekiti State ambassadorial nominee, and we wish to say categorically that the choice of Dr Eniola Ajayi is against the collective interest of the APC in Ekiti State.
Truth is bitter, but in the interest of our party, we will continue to say the truth no matter how bitter, no also minding whose ox is gored.
Firstly, Dr Eniola Ajayi was Commissioner for Education when Minister of Mines and Steel Development, Dr Kayode Fayemi was Ekiti State governor and it is on record that the Competency Test that she tried to force on teachers in the State contributed to the defeat of our party in the June 21, 2014 governorship election.
It is also on record that Dr Eniola Ajayi, believed by many to be Dr Fayemi's lover when they were in school, was among the closest advisors who misled the minister when he was governor.
To us, appointment of Dr Eniola Ajayi as ambassador, at the instance of Dr Fayemi will further aggravate the hatred of teachers in Ekiti State for our party, as the teachers are most likely to see her appointment as compensation from Fayemi for the physical and psychological injuries she inflicted on them when she was Education Commissioner.
Has Fayemi now compensated Dr Eniola Ajayi for her competency test that made teachers in Ekiti State to hate our party? Is this not a signal that if our party returns to power in 2018, teachers will still be made to write the competency test?
Secondly, appointment of another ally of Fayemi as ambassador, in a party with more than five major factions is not a good way to foster unity among the party members. This is more so that the Action Group APC led by Senator Babafemi Ojudu already has Special Adviser, Fayemi's Eyi Yato group has minister and the State Exco while Segun Oni's Irewolede Group do not have any appointment.
It is our position that the ambassadorial position should have been given to someone from Segun Oni's Irewolede group, and not a loyalist of Fayemi, who himself is interested in the 2018 governorship.
Thirdly, Dr Eniola Ajayi is from Iyin-Ekiti, Ireposun/Ifelodun Local Government. Former Governor Niyi Adebayo, former House Representatives member, Michael Opeyemi Bamidele and former Minister of Aviation, Tunde Omotoba are from Iyin-Ekiti. Is Iyin-Ekiti the only town in Ekiti State?
Why not someone from the Southern Senatorial District since Fayemi is from North and Senator Ojudu is from Central?
We therefore demand that Dr Eniola Ajayi be dropped as ambassadorial nominee from Ekiti State and another person, preferably from the Southern Senatorial District and from Segun Oni's Irewolede Group be picked as her replacement.
It is our position that if our party must regain power in 2018, our leaders, especially Dr Fayemi must act fairly. This impunity and contempt for other interests in the party must stop!
Mr Tope Ogunkuade Comrade Tunji Adeleye,
Convener Secretary