FG rolls out $300m diaspora bond in March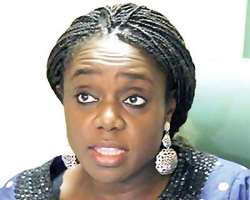 The Minister of Finance, Mrs Kemi Adeosun, yesterday said the $300 million Diaspora bond approved by the National Assembly would be rolled out in March.
Mrs. Adeosun spoke yesterday when the Senior Special Assistant on Foreign Affairs and Diaspora, Mrs Abike Dabiri-Erewa, visited her in Abuja.
'The Diaspora bond which the National assembly has approved where Nigerian in the Diaspora who wants to invest can key into, we are hoping that by March the Diaspora bond will be rolled out.
'Beyond that of course, the investment opportunities in Nigeria are very huge, a lot of Diasporans who are interested in investing at home are encouraged to do so.
'Government is putting in place a lot of incentives, such as infrastructures; and also creating conducive environment for them to thrive. We are encouraging them to come back home and join the trend,' she said.
Mrs. Adeosun noted that the Ministry of Trade and Investment was working  to reduce the bottlenecks hindering people from doing businesses.
Mrs. Adesoun, who was optimistic that 2017 would be a better year for Nigeria, said the country was going to overcome its challenges and all hands must be on deck to restore the economy.
'We are very confident that Nigeria is going to overcome its challenges; we have to ensure that we invest and ensure that the economy is moving,' she said.