Nigeria Aviation Chiefs Sacked, Capt. Mohammed, Others Replace Them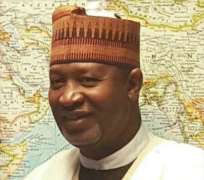 Hadi Sirika, Nigerian minister of aviation, is set to sack four key chief executives in the aviation sector who are to be replaced by four others
BARRING any last minute changes, four chief executives in the ministry of Aviation, will be receiving their sack letters soon. A source close to the ministry of aviation told Realnews that Hadi Sirika, minister of aviation, has concluded plans to sack all the chief executives who happened to be from the southern part of Nigeria.
Listed for replacement are Samuel Caulcrick, director general of the Nigerian College of Aviation Technology, NCAT, Zaria, from Lagos State, Emmanuel Anasi, director general, the Nigerian Airspace Management Agency, NAMA, from Abia State; Anthony Anuforum, director general, Nigerian Meteorological Agency, NIMET, from Imo State, and Felix Abali, Accident Investigation Bureau, AIB, commissioner from Bayelsa State.
Realnews gathered that the director general of NIMET has eight months left to complete his tenure; acting managing director of NAMA is retiring as civil servant while rector NCAT and commissioner of AIB have only served two years and 10 months, respectively, into their tenure.
They are all being removed because of their immutable stand on issues concerning the aviation sector, which are not well tolerated by the minister.
To replace the chief executives are Capt. Abdulsalam Mohammed, NCAT, Fola Akinkuotu, NAMA, Akin Olateru, AIB and a lecturer from University of Abuja is slated for NIMET.
Since last year, there has been fear of rightsizing of staff in the aviation sector. More than 1,500 workers NAMA, FAAN, and the Nigerian Civil Aviation Authority, NCAA, have already been slated for sack.
The worst hit will be FAAN, as it is said that there are many people who do not have any business being there. The planned sack may also be because of the federal government's plan to establish a national carrier which has been a subject of controversy in the country.