Sokoto govt builds schools for 1.2m new students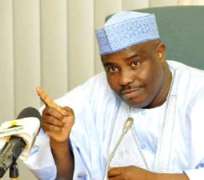 Sokoto State Government is constructing new schools to absorb the 1.2 million new students expected to be enrolled in 2017, Gov. Aminu Tambuwal said on Saturday.
Tambuwal made the disclosure when he inspected progress of work at the site of the new Government Secondary School, Balle in Gudu Local Government Area.
Tambuwal said: 'Government will cater for its citizens already in schools and ensure that those out of school are admitted and given quality education.
'Government's commitment to education will not waiver, and we appeal to the people to support the government to enable it achieve its objectives.
' Sokoto state government had recently announced plans to build 160 new primary and secondary schools across the state.
'Of the number announced, 100 new primary schools will come on stream in 2017, while 45 new senior and 15 new junior secondary schools would be built.
'They are to cater for the expected increase in the number of students to be admitted into schools for the first time in the state.'
Tambuwal commended the contractor for 'sticking to specifications,' and appreciated supervising the project for ensuring adherence to quality.
The governor said expressed confidence that academic activities would begin in the school in the coming months.( NAN)