Akufo-addo Sworn In As Ghana's President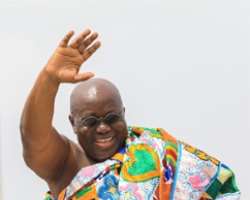 SAN FRANCISCO, January 07, (THEWILL) – Nana Akufo-Addo was sworn in on Saturday as Ghana's new president at a ceremony in Accra, the country's capital.
In a speech as he took office, the president said "I will not let the good people of Ghana down.
"I pledge to do my best to move this country to higher level of development; I will not let the good people of Ghana down.
"We should move on to deepen our democracy."
The 72-year-old president also promised to work with Ghana's neighbours "to ensure stability on the African continent."
The new president, a lawyer who served as Ghana's foreign minister in 2008, vowed to build on the West African country's economic success.
Akufo-Addo got 53.85 per cent of the votes in Ghana's December 7 election to defeat incumbent John Mahama who got 44 per cent of the votes.
Fourteen African heads of state including Nigeria's President Muhammadu Buhari and Kenya's President Uhuru Kenyatta attended the ceremony in Accra.
dpa/NAN