"How Might Trump Change Africa Policy?": Professor Placid C. Njoku Reacts to Ambassador Herman J Cohen's publication on The Nigerian Voice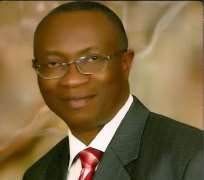 An erudite scholar and one of African's most prominent intellectual and academic, Professor Placid C Njoku has reacted to a publication in The Nigerian Voice on how the incoming United States President, Donald Trump might change Africa policy. In the publication, Ambassador Herman J. Cohen, a former United States Assistant Secretary of State for African Affairs, former United States Ambassador and former US diplomat on Africa in the Republican administration of the first President Bush, assessed the likely approach of a Trump administration towards the continent and emphasized the benefits to U.S business interests of maintaining a number of longstanding policies.
Professor Placid Njoku: I was very glad to read the comments of Ambassador Herman Cohen from The Nigerian Voice about the potential direction of the incoming American administration of the President-elect Donald J. Trump on African affairs. Cognisant of the long, varied and in-depth experiences of Amb. Cohen on African Affairs, there are only very few others anywhere with the capacity to effectively postulate on the new American administration's possible direction in Africa. I am able to say this as I recall with great fervor my discussion with Amb. Cohen during his stop-over in my Abuja residence with Paschal Mbawuike in 2004 on his way from the former Nigerian leader, Retired Gen. Ibrahim Babangida. Amb. Cohen has great knowledge of Africa and is a highly respected voice on African affairs.
Certainly, the American President-elect Trump has said very little regarding America's relation with Africa during his campaign and since his election. And African nations are anxious to discern Trump's new American foreign policy direction towards Africa. Amb. Cohen's analyses and postulations clearly confirm the long-standing good America-Africa relations and hope that most of the current programs will be sustained.
While agreeing that African nations will at least want to have a continuation of most of the programs like AGOA, PEPFAR and Feed the Future, they will indeed further like to see Trump expand on cooperation in areas of Agriculture, Education, Power and Infrastructure development that will guarantee capacity building, food security, expansion of opportunities in industrial development and in-country youth employment. Ultimately, these will reduce youth migration to highly favored American destinations. As a consultant to some foreign missions in Nigeria on programs that have capacity to limit youth emigration, it is clear that supporting the development of local opportunities, in Nigeria for example, has helped to reduce to some extent the surge among youths to emigrate to European countries.
Furthermore, Africa is growing attractive to China, Russia and Japan who would want to have their influence pervade the foreign policy of African nations. Indeed, many African countries are at a cross-road trying to balance their relationships with foreign powers. The United States of America (USA) has continued to have an advantaged run on the psyche of Africans. It will be great for Trump to build on the goodwill of the USA in Africa and expand on the America-Africa relations.
The world is renewing itself. Elements of social attitudes that seem to depend on unlimited human rights have failed to catch up in Africa. The Trump disposition of human rights with responsibility is in tandem with the African position and both the USA, led by Donald Trump, and Africa can partner to show the world how to grow responsible rights and make the nations great!
Professor Placid C. Njoku
Pioneer Vice Chancellor/President (1993 -2000)
Federal University of Agriculture Umudike, Nigeria &
Pioneer President, (2007 – 2015)
Nigerian Institute of Animal Science
Prof. Placid Njoku is a graduate of the University of Nigeria, Nsukka and the University of Nebraska, Lincoln, NE, USA. He is a Professor of Agriculture and taught in Ahmadu Bello University, Zaria and Abubakar Tafawa Balewa University, Bauchi, both in Nigeria and did a sabbatical year at the Roslin Research Institute, Roslin Edinburgh, UK. He has also held several senior government and professional positions. He is also an expert in quality assurance in higher education and has consulted for government, foreign missions, development agencies and private organizations on Agriculture, Education and Environment.