Awujale Reveals Cause Of His Quarrel With Obasanjo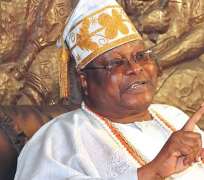 SAN FRANSCISCO, January 06, (THEWILL) – The last is yet to be heard of the quarrel between former president Olusegun Obasanjo and the Awujale of Ijebuland, Oba Sikiru Adetona, as the latter has traced the origin of their spat to when Obasanjo reneged on his promise to address the issue of true federalism in the country as president.
The Awujale stated that Obasanjo refused to address the issue of true federalism despite promising to do so before he got elected into office in the 1999 elections, stressing that he told the then president to his face that he was a Judas who can betray his people.
Excerpts from Chapter 12 of the Monarch's autobiography, titled: 'Awujale: The Autobiography of Alaiyeluwa Oba S. K. Adetona Ogbagba II,' read, "With Obasanjo finally settled in office, I went to see him at Aso Rock in Abuja. I sought to meet with him so that we could discuss the contentious issue of true federalism in the nation and the future association of the constituents.
"He had talked a great deal along this line before going into office and so I never anticipated any problem with him on the matter. I urged him to provide a solid structure for the country. Obasanjo declined to call any national conference on federalism and I was very disappointed. This was the dividing line for me in our relationship.
"During one of my visits to Aso Rock, Obasanjo revisited the issue . He asked if I remembered that I had called him a Judas. I told him I not only remembered but still maintained that he was a Judas who would betray his people. I did not give up pressing on the federalism issue.
"In September 2002 , I went again to see him at Aso Rock on the need for the constituents of the nation to discuss our association. There was no positive response from him. In my disappointment, I told him before leaving that his case would end up like that of a snake crawling on a rock without leaving a footprint."
Recall that excerpts from pages 187- 195 of the book recently gone viral, where Awujale accused Obasanjo of using the then Chairman of the Economic and Financial Crimes Commission, EFCC, Nuhu Ribadu, to persecute the founder of Globacom, Mike Adenuga.
The traditional ruler claimed that Obasanjo believed that Adenuga was fronting for the then vice president, Atiku Abubakar, and former military president, Ibrahim Babangida.
He alleged that Adenuga was detained and harassed because Obasanjo was fighting with Atiku and Babangida at the time.
Awujale went on to describe Obasanjo's eight years in charge of the nation's affairs as a complete waste that was "short of tangible achievements".
Reacting in a letter dated December
30, 2016, and addressed to the Awujale, Obasanjo berated the monarch while describing him as a liar and a rumour-monger. http://thewillnigeria.com/news/your-claims-about-me-untrue-obasanjo-tells-awujale/
"Your assertion in the publication was a tissue of lies and untruths," the ex-president said, adding that he did not expect the monarch to be objective as regards Adenuga since the billionaire was his cousin.
Meanwhile, from pages 171 to 183 of the book, the traditional ruler recounted his role in helping Obasanjo to power in 1999, adding that he also intervened when the Alliance for Democracy, AD, started questioning the election that produced Obasanjo after its (AD) candidate, Olu Falae, lost the election
He wrote, "The (1999) presidential election was looming and Sunday Awoniyi, on behalf of the Peoples Democratic Party, approached me to recommend a possible Yoruba candidate for them.
"In my opinion, the most serious problems facing the country at the time were its economic challenges. So the man I believed we needed had to be someone who had a
comprehensive grasp of national economics.
"I also thought that Nigeria needed a man with international exposure to lead the country responsibly in the global scene. The man also had to be detribalised and clean, with a passion to put things right for our nation. As I saw it, Prof . Adebayo Adedeji was the one who met these criteria and I recommended him."
The Awujale continued that the PDP accepted Adedeji, who is a professor of Economics and a former Executive Secretary of the Economic Commission on Africa, as a qualified candidate but had to reject him because he belonged to the Alliance for Democracy.
According to him, "Meanwhile , Obasanjo was struggling for acceptance and to be adopted as a candidate. He had never been a politician other than the fact that he had been a former military Head of State; he had no political constituency.
"He paid regular and almost daily visits to me in the " aafin" (palace ) to plead with me to support his candidature. There was also
pressure on me on behalf of Obasanjo from Chief S . O. Bakare and Otunba Reuben Fasawe.
"When no other Yoruba man emerged from the PDP, I had a discussion with Obasanjo on the travails of the country, on one of his visits. We both agreed on how good leadership alone could salvage the nation.
"In the end, I agreed to support his candidacy and that was a turning point in our relationship. Even after I gave him my support, Chief Awoniyi still came to me, seeking assurance that Obasanjo would perform well. I told him that Obasanjo had promised to serve the nation diligently and pull Nigeria out of the doldrums."