CISLAC Bags 2016 Legislative Service Award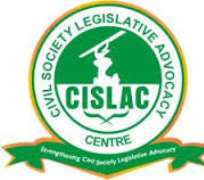 The HOPe Africa Secretariat in Kansas City, Missouri, USA, has bestowed on Civil Society Legislative Advocacy Centre (CISLAC), 2016 award of "Traceability Advocacy & Legislative Services".
This was made known by the Executive Director of HOPe Africa, USA, Francis John in a congratulatory message to CISLAC.
Speaking on the development, John said the award was necessitated by "cumulative exemplary lead and displaying measurable empathy of CISLAC in discharging on-time humanitarian services at all levels of Nigerian communities".
He said: "Please accept this award in recognition and appreciation for your immersed contributions to Nigerian legislative advancement. Your accomplishment is respected worldwide, most especially in the advent of HOPe Africa, creating friendly societies for all ages regardless of disabilities while pioneering human development (reengineering immigrants), promoting Veterans Exchange Program (ReStrengthening Esprit De Corps among Military and Paramilitary), Researching & Training of Selected Organizations working in the North Eastern Nigeria on Trauma and Psycho Social Support; and publisher of AgeMates Magazine is proud to call you its own in a competitive viral – media world.
"Once again, accept our Warmest Congratulations and Happy New Year while we look forward to working with your outfit, majorly in the areas of advocacy, sensitization and humanity."
Receiving the award, the Executive Director of CISLAC (CISLAC), Auwal Ibrahim Musa (Rafsanjani) expressed the organisation's gratitude to HOPe Africa, USA, for its "tireless effort in promoting and advancing the interest of Africa and Nigeria through sustained positive interventions and contributions", adding that CISLAC would not relent in its pursue of transparency, accountability and good governance at all levels.
HOPe Africa is a NGO registered in Nigeria since 2003 with Headquarters in United States of America and a branch United Kingdom. Also, registered with international organizations, including United Nations. HOPe Africa is very involved in various accelerated community and integrated works with its network of partners in meeting clients' desirable needs