STOCKS TUMBLE DESPITE FAIR EARNINGS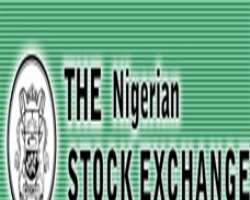 Prices of stocks came tumbling on Friday at the Nigerian Stock Exchange (NSE) in spite fair earnings of quoted companies released at the Lagos trading floor of the Exchange last week. A total of 53 stocks recorded drop in share prices compared with 35 gainers led by three oil majors of Total, Oando, and MRS Oil (Chevron).
Following the huge losses, market capitalization dipped by N25.97 billion or 0.38 percent to close at N6.747 trillion, from N6.773 trillion at which trading had opened. Also dropping by similar percentage, the All-Share Index fell 106.86 basis points to 27,753.13 points, down from 27,859.99.
It was thought that impressive audited financial results of UACN Plc, UAC Property Development Plc and AG Leventis (Nig) Plc would further lift the market. In its audited result for the year ended 31st December 2009 shows UAC Property's turnover stood at N13.331 billion as against N13.328 billion in 2008. Profit after tax stood at N2.386 billion compared with N3.682 billion in 2008. The board of directors recommended a dividend of 50 kobo per share and bonus of 1 for 4. The sister company, UACN Plc also released its impressive result to the Exchange with mouth watering returns to investors.
Similarly, AG LEVENTIS (NIG) PLC posted an impressive result for the year ended 31st December 2009 shows. Its turnover stood at N13.589 billion as against N11.221 billion in 2008. Profit after tax and exceptional items stood at N1.235 billion compared with profit after tax of N1.218 billion in 2008. The board of directors recommended a dividend of 10 kobo per share.
Courteville Investments Plc, Longman Nigeria Plc and a host of others also released their audited and unaudited results. But, in spite all the good results, share prices plummeted on Friday for the second time in the week leaving the market with slim appreciation.
However, the value of investments on Exchange appreciated by N94.86 billion. The value of investment on the Exchange represented by the market capitalisation rose by 1.43 per cent to close the week at N6.747 trillion from N6.652 trillion at which it opened. The All-Share Index also appreciated by 0.91 per cent to close the week at N27,753.13 points from 27,503.36 points at which it opened.
This was brought about by gains on the share prices of major blue chip companies, led by Total Nigeria Plc with a gain of N31.25 to close at N236.00 per share, Oando Plc followed with a gain of N9.35 to close at N123.90 per share and Cadbury Nigeria Plc garnered N7.52 to close at N34.84 per share.
Other share price gainers include: MRS Oil Nigeria Plc N7.14, Glaxo Smithkline Consumer (Nigeria) Plc N4.92, Julius Berger Nigeria Plc N4.55, African Petroleum Plc N3.89, UACN Property Development Company Plc N3.62, Benue Cement Company Plc N3.00, UAC Nigeria Plc N2.06 among others.
On the contrary, Mobil Oil Nigeria Plc recorded the most share price loss, dropping by N7.94 to close at N150.90 per share, Northern Nigeria Flour Mills Plc followed with a loss of N3.61 to close at N33.58 per share and Flour Mills Nigeria Plc dipped by N3.40 to close at N68.90 per share.
Other share price losers include: Nigerian Enamelware Company Plc N2.26, Ecobank Transnational Incorporated N1.61, Okomu Oil Palm Plc N1.54, Nigerian Breweries Plc N1.50, Chellerams Plc N1.06, Nigerian Aviation Handling Company Plc N0.94, Unilever Nigeria Plc N0.91 among others.
Equity trading, in the week under review, appreciated by 28.57 per cent as a turnover of 2.25 billion shares valued at N19.5 billion was recorded in 43,941 deals, in contrast to the previous week's turnover of 1.75 billion shares valued at N17.11 billion in 25,710 deals.
The Banking subsector was the most active during the week (measured by turnover volume), with 893.56 million shares worth N8.71 billion exchanged by investors in 20,207 deals. Volume in the Banking subsector was largely driven by activity in the shares of Skye Bank Plc, UBA Plc and First Bank of Nigeria Plc. Trading in the shares of the three Banks accounted for 347.2 million shares, representing 38.85% and 15.43% of the subsector's turnover and total volume traded during the week, respectively. The Insurance subsector, boosted by activity in the shares of Guaranty Trust Assurance Plc and Mutual Benefits Assurance Plc, followed on the week's activity chart with a turnover of 632 million shares valued at N1.01 billion in 2,803 deals.