Delta CP Vow To Go Tough On Criminals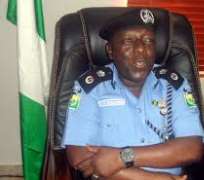 Delta State Commissioner of Police, Mr. Zanna Mohammed Ibrahim, has warned miscreants locking around to shift base or face the full weight and the wrath of the law when apprehended.
The stern warning is coming on the heel of the murder of Chief Gilbert Osherive, just as the CP has assured Deltans that the police under his watch would do everything possible to unravel the mysteries surrounding the death and other similar deaths in the state.
It would be recall that on 17th December, 2016 the 87 yrs old Chief Gilbert Osherive of No. 53 Ediagbon Street, Kokori was found murdered by unknown assailants.
Meanwhile, two suspects Eze Ighowunu 19 years and Peter Oshivire 54 years both of Kokori Inland have been arrested in connection with the crime.
While expressing his condolences to the deceased's family, the CP also vowed that suspects involved in other crimes under investigation in the Command would be fished out and brought to justice.
The CP called for the cooperation of the public through useful information to the police at all times.