Pres. Buhari is not ready to resolve Niger Delta crisis – MEND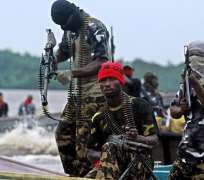 Movement for the Emancipation of the Niger Delta (MEND) has passed a vote of no confidence in President Muhammadu Buhari over its handling of the Niger Delta crisis.
MEND, a major militant group in the Niger Delta region, was the only group in the region that backed Buhari against former president Goodluck Jonathan in the 2015 presidential election.
The group had been a pillar of support for the Federal Government in its quest to find a lasting solution to the crisis in the region.
It had endorsed the commencement of talks between Niger Delta stakeholders and the Federal Government by throwing its weight behind Chief Edwin Clark leading the Niger Delta team.
However, in move that indicated that the militant group was ready to dump Buhari, MEND said its decision to pass a vote of no confidence is a direct reaction of Buhari's inactions on the crisis in the Niger Delta region.
MEND spokesman, Jomo Gbomo in a statement while listing four reasons for the vote of no confidence expressed regret that since Buhari's meeting with Niger Delta stakeholders under the auspices of Pan Niger Delta Forum (PANDEF), the president 'has been carrying on arrogantly and making controversial, prejudicial, conflicting and contradictory statements about the politics and economy of the oil-rich region.'
MEND declared that Buhari on assumption of office has demonstrated that he holds the people of Niger Delta region in contempt and has been blackmailing its leadership for not showing commitment to dialogue whereas, it is the Federal Government that has refused to name its negotiating team.
The group said Buhari should  stop what it called, 'cunning, crafty and unstatesmanlike rhetoric' about the Niger Delta region, adding  that they have only served the purpose of jeopardising the fragile peace in the region.
According to Gbomo, steps already taken by Buhari including reneging on several concessions agreed upon during MEND/Federal Government meeting and writing a damaging letter to South African government to sabotage legal options open to MEND leader, Henry Okah.
MEND advised Buhari to urgently set in motion the process of dialogue with Niger Delta stakeholders and also demanded that all Niger Delta militants in custody of security agencies be allowed access in line with international best practises.