Southern Kaduna Killings: Nigeria of blood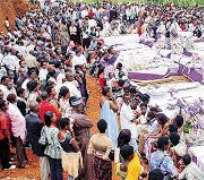 The British colonization of this part of sub-Saharan Africa and their decision to unite the parts that makes up the present day Nigeria which cuts across religious divides, tribes and languages is where the problem of Nigeria as not being a single peaceful whole started.
In as much as we try to claim that we are one entity the killings and other deprivations still shows that there are divides among us as Nigerians. The massacre in Nigeria did not start now and from predictions and actions from our supposed leaders, it won't stop soon. The innocent lives lost before and during the Nigeria civil war are still crying out loud for the injustice meted at them.
Nigeria has lost men, women, children, properties, resources and whole lots due to incessant killings that have bedevilled the Lord Lugard's nation. After the Nigerian purported independent from the hands of Lugard and his people, the country was faced with tribal killings and religious crisis which later led to a civil war that lasted for 30 months. During this civil war millions of lives were lost, Children starved to death, women raped and raped to death, at a time, In Asaba, the present day capital of Delta State, has its indigenes and people residing there, mainly Igbo speaking people killed at about more than 700 people.
In the year 1999, the then President, who is still alive ordered the killings of Odi people of Bayelsa State, 2500 men, women and children were massacred, between the February 21 and May 23, 2000, a religious riot erupted in Kaduna State, involving Christians and Muslims over the introduction of Sharia law and more than 500 people were killed. Another religious crisis erupted in Jos, Plateau State in 2001 over the appointment of a Muslim politician as a coordinator of the Federal Poverty Alleviation program and about 500-5000 men, women and Children were killed, properties destroyed.
Between November 20-23, 2002, there was a another religious riot that mainly occurred in Kaduna, Abuja and Lagos just because the Winner of the 2001 Miss World Contest happens to be from Nigeria and the 2002 contest was billed to hold in Abuja, the capital of Nigeria and the date coincided with the Muslims holy month of Ramadan and the contest was perceived to be 'unholy' and riots erupted, more than 200 lost their lives mainly in Kaduna, Nigeria. In the year 2004, between February 4 and first week of May, 975 men, children and women were killed in Yelwa, Shendam and Kano. The attacks include the invasion of a Pentecostal church by the Muslim youths and slaughtering of all the worshippers.
A Denmark Newspaper, Jyllands-Posten published 12 editorial cartoons of which has an image of a prophet on it. The newspaper published it in faraway Denmark, led to a protest all over the world but it was only in Nigeria that people were killed, maimed, properties and buildings destroyed in Maiduguri. In the year 2008, religious riot erupted in Jos the capital of plateau State, the Christians and Muslims started killing themselves because of local election, involving a Christian of PDP and Muslim of ANPP, the violent riot left 381 men, women and children dead. The Nigerian police attacked a community in Kogi known as Ogaminana, in what they called reprisal attack, killing about 50 elderly men and women.
The mother of all Nigerian terrorism and killings started in 2009, when an Islamic militant group known as Boko Haram, firstly having its presence in Maiduguri, North East of Nigeria and later moved over to states like Bauchi, Yobe, Adamawa and even Kano. Boko Haram now an international terrorist group has claimed many attacks on Christians, Muslims, church buildings, mosques, Motor parks, markets, leaving over 20,000 people dead, destroyed properties worth millions, displaced over 2 million of their homes and they have extended their attacks on other West African nations like Cameroon and Niger Republic.
In 2010, Muslim Hausa-Fulani herdsmen attacked the Christian people in Jos, the third religious crisis that happened in Jos, Houses were burnt, properties lost, people displaced, and more than 1,000 people were slaughtered. The same 2010, Boko Haram terrorist group bombed UN Building and killed over 150 people, another bombing was recorded in same 2010, when the Movement on the Emancipation of Niger Delta claimed the attack on the Independence Day that claimed 12 lives and wounded 17.
Boko Haram also attacked places like Damaturu, Yobe state, bombing police stations, markets and churches on 4th of November 2011, killing more than 150 Nigerians. A Catholic church was also attacked during Christmas of 2011 at Madalla, Niger State leaving 41 men, women and children dead. On January 5thand 6th, the sect attacked Mubi, Yola, Gombe and Maiduguri and killed more than 50 people. Christian churches were also attacked on January 20, 2012 in Kano and more than 200 were killed, they also attacked Kaduna, Wusasa, Sabon Gari, Okene, Maiduguri, Potiskum all in 2012. In 2013, Baga, a community in Borno was attacked and over 200 civilians were killed, hundreds wounded and more than 2,500 displaced. Human rights organisations accused the army and the army blamed Boko harm terrorist group, till today no group has claimed the responsibility of the Baga attack. Boko Haram also attacked a Mamudo Secondary school in Yobe, killed 41 children, attacked Gujba College and killed over 50 students, attacked Konduga Local government, killed 40, attacked Kawuri, killed 90.
In 2014, they attacked Federal Government College, Buni Yadi in Yobe State on February 25, 2014 and killed 59 students, in 2014; Boko Haram claimed the lives of more than 3,200 people through their attacks in Gaborou, Borno state, Abuja Bus Stand, Attack on Gwoza and Baga in Borno state.
The Independent People of Biafra (IPOB), a secession group that are seeking for their freedom from Nigeria entity, mainly the Igbo speaking people of South East Nigeria started a peaceful protest in South East and South-South States, Lagos and Abuja, the protest was accepted to be a peaceful one, until the Nigerian security forces descended on the armless protesters and according to the report by the Amnesty International, more than 150 IPOB members were killed in Onitsha, Aba, Umuahia and other Igbo towns. The Nigerian Army also clashed with an Islamic group based in Kaduna known as Islamic Movement of Nigeria (Shiite) and more than 1,000 lives was claimed due to the clash. The Nigerian police also had a clash with the Shiite group and over 100 were killed in October, 2016.
The Incessant attacks and killings from the day-light terrorist group also known as Fulani herdsmen, whose prior job was to move cattle from one place to the other in pursuance of food for the animals has turned into becoming armed men that invades villages, kills, maims, destroy and devastates the people they attack. The 'herdsmen' in their callous and dreaded attacks invaded Agatu, a Christian Community in Benue, North Central of Nigeria. They have attacked Nimbo and Uzo-uwani, Christian Communities in Enugu State, South East of Nigeria, they have also attacked towns in Abia, South East of Nigeria. All these places they have attacked, they killed hundreds of people, displaced families and left the places devastated.
There present day attack is now in Southern Kaduna, Kaduna as a state has diverse religion and people residing in the state, they have the southern Kaduna as majorly a place for Christians, the 'herdsmen' has since last two months, on daily and weekly basis, invading the southern Kaduna towns and killing hundreds of people for just no cause, mainly because they are Christians and might be having increase in population in that part of the Northern Nigeria.
The Nigerian government is yet to give proper attention to the southern Kaduna killings, people are being killed, maimed and properties destroyed. If care and proper attention is not taken, to forestall this menace called herdsmen, one day Nigeria will wake up and see its half population killed by these 'foreign' killers.
I weep for my Country.
Tonie Osegbo
© December, 2016
Disclaimer:

"The views expressed in this article are the sole responsibility of the author and do not necessarily reflect those of The Nigerian Voice. The contents of this article are of sole responsibility of the author(s). The Nigerian Voice will not be responsible or liable for any inaccurate or incorrect statements contained in this article."

© Tonie Osegbo

.