Dr. Mustapha Jibril Wishes Nigerlites A Happy New Year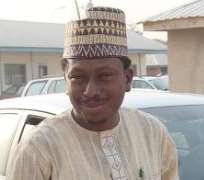 Dr. Mustapha Jibril's favourite quote is that of Late Nelson Mandela that says "It always seems impossible until it's done"
And according to his Boss, Governor Abubakar Sani Bello "The wealth of our nation depends on the health of our people. Today, the life expectancy of the average Nigerian is a mere 52 years; and invariably so in Niger State. This is unacceptable, as most families lack money for adequate health care, and too few communities have access to quality health facilities or medical professionals."
Mr. Governor continues "Our vision in the health sector is for every Nigerlite to have access to a minimum package of affordable and quality health services when and where needed and with greater efficiency and cost-effectiveness"..
To this administration from the Health Sector, it is ONE Government, ONE People, ONE Health System, ONE Purpose and ONE Goal....
On behalf of Niger State Ministry of Health, Dr. Mustapha Jibril is wishing a Happy and Prosperous 2017 to all Nigerlites.
Signed
Fodio Ahmed