The change we promised will begin to manifest in 2017: Buhari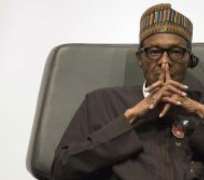 President Muhammadu Buhari said on Saturday the change Nigerians yearn for would manifest more and would be sustained in different sectors this year.
The president while urging  Nigerians to keep faith with him, expressed optimism  that the current pervasive  pains in the country are temporary.
 He spoke in his in his New Year message to Nigerians.
He said, "Our determination to wrestle corruption to the ground remains unshaken. This fight, which will be guided by respect for the rule of law and due process, will not spare anybody or organ of government. It is a collective undertaking and resolve that must be seen to its logical conclusion in spite of certain distractions. The fate of our country lies partly in the success of this campaign. It will be unthinkable on my part to allow the boat of this crucial campaign promise to capsize in midstream."
According to Buhari,  the government is getting things right, the President observed that agricultural revolution had begun with the active involvement of farmers in different parts of the country which would yield bumper harvests.
He said, "I assure you again that the current pains are temporary and will ease when the economic seeds in gestation begin to bloom to fruition. I am optimistic that the change we all yearned for in voting this administration to power in 2015 will manifest more and be sustained in different sectors, particularly agriculture, in 2017."
He added, "As you may be aware, our economic recovery and growth plan in 2017 is anchored on optimising the use of local content and empowering local businesses. In pursuit of this administration's philosophy, we will continue to appeal that we buy made-in-Nigeria goods.
"Like I said during the 2017 Budget presentation to the National Assembly, farmers, small and medium-sized manufacturers, agro-allied businesses, dressmakers, entertainers and technology start-ups, will remain the true drivers of our economic future. They are the engine of our economic recovery."
Recovery and Growth Plan."
The government has been buffeted by criticisms from the citizens many of whom a re expressing buyers'remorse  for voting for a clueless, insensitive and languid leadership.