Hunger and Recession are Not Dividends of Democracy.
Remarks by Mr. Oseloka H. Obaze at the Ogbaru Solidarity Forum Convention Atani, 31 Dec. 2016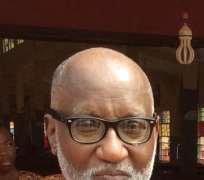 It is an honour to be here today and to be among my own people. On behalf of my wife and members of my team, I thank members of the Ogbaru Solidiarity Forum for the kind invitation. It's heartwarming to be home for the festivities. I salute all our traditional rulers, Chiefs and titled people here.
It is gratifying that a forum like this meets occasionally to exchange views on the challenges facing our people, our state and our nation. I wish you all happy Christmas and a prosperous New Year. I congratulate members of this forum.
The challenges facing Ogbaru people are legion, development, youth employment, bank erosion, poor access to food basket, bad roads and cultistism. As regards to cultism, the Chineses says that "the society creates crimes people commitment them." It behooves us to tackle these issue, boldly.
When Fr. Collins Ojene started the Madonna of Mercy Village, that caters for the aged, it was a novelty. But today it works efficiently. And we must follow such good example.
These are very interesting and difficult times for our people. There is hunger in the land. But it should not be. What we are facing is the challenge of a leadership that is disconnected from the needs and concerns of our people. Hunger and recession are not dividends of democracy.
There are those who say things are getting better in Nigeria; but the realities say otherwise. We know that he who goes a-borrowing, also goes a-sorrowing. That government pays salary and pension regularly, ought not to be news. Unmet needs abound at the federal, state and local levels.
In our dear state Anambra, the word on the street is that we are doing well. But the reality is that we can do far better; we must therefore strive to do better. At the present scope and pace, Anambra cannot attain its status as the leading state in Nigeria, which it ought to be. Alienation and disenfranchisement are dividends of democracy.
We need to manage our resources better, cut the cost of governance and improve our hard and soft infrastructure. Our development stride must be holistic. We need to change our mindset and fortunes and we must resolve to do so by the Choices, Chances and Changes me make in the days months and years ahead.
As a stakeholder in Ogbaru, in Anambra and the South East, I am invested and involved; mentally, emotionally and politically in promoting the welfare of our people through good governance. We cannot change or advance our state by accepting routine and pro forma leadership.
We should not be trying to fix things in Anambra and Igboland anymore; we must be bold in spearheading a dramatic change in the fortune and wellbeing of our people. We must make the southeast work again in our common interest. Let it be known that I am part of that revitalization process.
Leadership is not easy, but good governance is achievable. We must aspire to it fully. In whatever we do we must Arise to each occasion in full confidence of God's Blessings and Grace.